Nigerians React As EFCC Slams 11-Count Charges On Naira Marley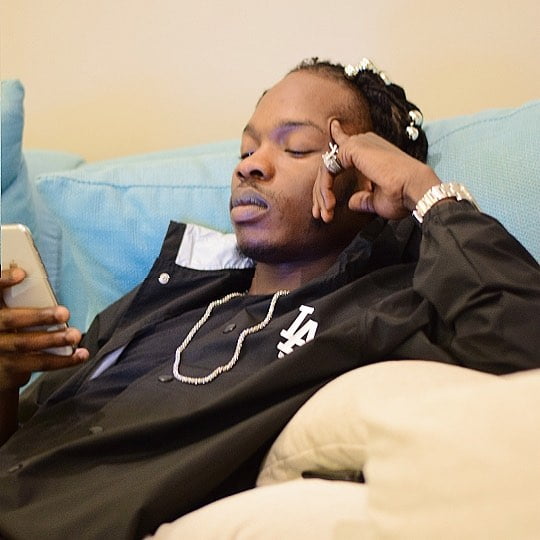 A storm of reactions by Nigerians has greeted fresh counts filed against Naira Marley b y the Economic and Financial Crimes Commission (EFCC).
Naija News had reported earlier that the EFCC filed an 11-count charge against the singer, who was arrested alongside Zlatan Ibile and three others.
With this development, the musician effectively risks seven years in jail if found guilty, as Section 33 (2) which he was accused of breaching, reads: "Any person who uses: a counterfeit access device; an unauthorised access device; an access device issued to another person; resulting in a loss or gain commits an offence and shall be liable on conviction to imprisonment for a term of not more than seven years or a fine of not more than N5,000,000.00 and forfeiture of the advantage or value derived from his act."
The charges with suit number FHC/L/178C/19 were filed before a Lagos State High Court.
Some of the credit cards, according to the EFCC, bore the names- Nicole Louise Malyon, and Timea Fedorne Tatar.
Moments after the news broke, Nigerians took to the micro-blogging site, Twitter to air their opinions on the matter.
Naija News captured some of the reactions below…
EFCC officially files 11 Charges against Naira Marley and sues him to court.

Naira marley: pic.twitter.com/ZpqeGQ09bR

— Egbemode Abayomi (@its_YOGO) May 16, 2019
CR7 & Messi – Football Goats ?
Eminem & Jay Z – Rap Goats ?
Micheal Jackson – Pop music Goat ?
Bobby Shmurda & Naira Marley – Scape Goats ?

— Adé ? (@DaflowABIOYE) May 16, 2019
After EFCC drains Naira Marley of his money.

They'll release him as Kobo Marley. pic.twitter.com/UUIQkm8xtU

— Gain More Followers (@Funnycator1) May 16, 2019
Naira Marley facing 11 count charge from EFCC is nothing I believe he will come back stronger..

Barrister in his prime was caught following masquerade.

King sunny ade in his prime was arrested for smuggling drugs.

I believe naira will bounce back ???? pic.twitter.com/Wprt0clChb

— QUDUS (@QdPaper) May 16, 2019
After filing 11 charges against Naira Marley, they court won't still sentence him to Jail.
No need for stories… We know our country???? pic.twitter.com/j3FRBi8E5u

— Ahkan_Imoh (@AkanimoEssien6) May 16, 2019
Efcc: So Mr. Afeez, your management said you borrowed the laptop we saw with you from somebody..Who is the person?
Naira Marley: Ermmm…. pic.twitter.com/WgbLC0yJYF

— YOUR ANCESTOR and 36 other demons? (@KingTife1) May 16, 2019
The Nigerian Music Industry is rife with folks whose alternative source of income is also fraud, but they all keep a low profile.

Uncle Naira Marley thought he was immune cuz he knows Olamide. By the time you're out, you'll switch to Gospel music & be featuring Frank Edwards. https://t.co/Ag3jwTrqLG

— Harri Obi™ (@Harri_Obi) May 16, 2019
EFCC; Naira Marley! Jail or 5M bail???

Naira; Why I pose like that for that first picture? ?? pic.twitter.com/q5mQYj6jET

— SANGO! Not OLUKOSO ? (@Spreezy__) May 16, 2019
When Naira Marley finally free from EFCC .His next single go like this pic.twitter.com/LTFbegdeWv

— dabiriy (@dabiriy) May 16, 2019
Naira Marley when he hears the word yahoo ? pic.twitter.com/F0V9fQQiGd

— New Ӄing Solomon? (@Ahrdebayoh) May 16, 2019
Court to Naira Marley: You'll be spending 7 years in jail.
Naira Marley: I know my homeboy Zlatan will come for me
Zlatan: pic.twitter.com/Z2mMUy1SlH

— Your Daddy (@ToyosiGodwin) May 16, 2019
Naira Marley right now?? pic.twitter.com/AAp4GpDY4M

— Osirmah (@osirmah) May 16, 2019
Leaked video of Naira Marley at the EFCC office, today. ?? pic.twitter.com/hUbm71bBAh

— OLUWASAANUMI ?? (@SanRomeo) May 16, 2019
Naira Marley is going to jail after dropping a hitsong. May we not unknowingly cut short our success with our own mouth ??

— DREYLO (@RealDreylo) May 16, 2019
EFCC GO USE NAIRA MARLEY DO SCAPEGOAT…
??????? pic.twitter.com/VDRCuyIkbi

— Uncle Henry↙️ (@henrystev27) May 16, 2019
***EFCC asking Naira Marley if he borrowed the laptop***

EFCC : Naira Marley is that true?

Naira Marley : Yes, it's not mine, I borrowed it from my friend Zlatan.

Zlatan : ahhhh, me dat don't even have a phone let alone laptop. ? ? ? pic.twitter.com/JJfZFtQLv8

— Wisdom Obi Peter ™ (@wisdompetertm) May 16, 2019
Na so Naira Marley cast himself sha…

— Ovie (@OvieO) May 16, 2019
#zlatan has always been wise, in his song with nairamarley he said "yahoo ni óre mi se!" Now EFCC has released him and his friend is still in their custody. He casted Naira marley. pic.twitter.com/fS1x0QPU8r

— UNCLE JEKWU (@Odimmajoshua) May 15, 2019
EFCC : Who is the owner of the Laptop?

Naira Marley : is not for me oo, I borrowed it from Zlatan..

Zlatan : pic.twitter.com/a7fFnNDaMQ

— Ingenio♻ (@Davidskima1) May 16, 2019
Simi while reading updates on Naira Marley #JappEverywhere pic.twitter.com/IpzcoUfeLq

— ??Daddy Pastor?? (@MyGanjaMind) May 16, 2019
Naira marley management to EFCC : he borrowed the laptop to upload his songs

Naira marley: pic.twitter.com/7kWV7iuzQu

— babalola seun? (@jus_dean) May 16, 2019
Naira Marley's management says:

1. He's an artist that "speaks for the streets."

2. Am I a Yahoo Boy was just a "playful, reactive song."

3. They found evidence on a borrowed item that was found on him.

4. Naira Marley is not Nigeria's problem.

5. He is not a Yahoo Boy. pic.twitter.com/CGnZBJ0xMi

— Joey Akan (@JoeyAkan) May 16, 2019
Unpopular Opinion: Naira Marley edition

With that Official Statement from His management, it is safe to say Naira marley next stop is KiriKiri Prison ????…..

Borrow koh, Lend ni pic.twitter.com/RIil69MdtZ

— oluwapapy (@oluwapapy1) May 16, 2019
Naira Marley's management : He borrowed the laptop he was caught with, not his own.

EFCC : pic.twitter.com/MFs0EiiIOS

— Brother Parody (@BrotherParody) May 16, 2019
Read More News. Download Naija News App. Send us enquiries and press releases.