Ugochukwu-Uko Reveals How Lagos 'Political Lion' Sent Ooni To Deceive Igbo Ahead Of 2023 Presidency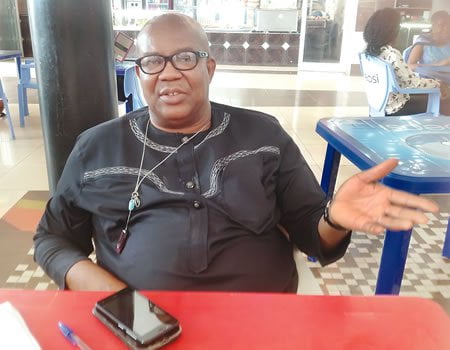 Evangelist Elliot Ugochukwu-Uko, the founder of Igbo Youth Movement and the Secretary-General of the Eastern Consultative Assembly, has called out the Ooni of Ife, Adeyeye Enitan Ogunwusi, over the claim that Yoruba and Igbo share a common ancestry.
Ugochukwu-Uko while speaking with Daily Post stated that the Ooni of Ife was sent by a "political lion" from Lagos State to inform the people of South-East that Yoruba and Igbo share the same ancestry.
He stated that after the Igbo had been humiliated during the just concluded elections in the state, the monarch was sent to woo and deceive the people of South-East ahead of 2023 elections.
The Ooni of Ife was recently reported to have claimed that the ancestors of the Igbos were laid to rest in Ile-Ife.
"We have to say the truth and the truth must set us all free, we are blood brothers. We should be inseparable. Please feel at home in Yorubaland and respect your Yoruba brothers and sisters too."
"We still have House of Igbo right in this palace till date. We call it Ile Igbo up till now. Our ancestors are buried and transfigured there. That is where kolanut was first discovered and nurtured."
"The Igbos are still the biggest consumers and users of Kolanut which is only planted in Yorubaland till date. Can the Igbos do without kolanut?"
"The ancient Igbo house is one of the most sacred places in this palace till date. One of my brother kings – Aka Arogundabi from Iremo quarters saw the mysteries of house of Igbo(Aka-ri-Igbo). Till date, Akarigbo of Remoland still sees the house of Igbo as a common heritage of his forebears."
Ugochukwu-Uko, while reacting to the monarch's claim described it as deception, he also stated that the people of South-East are independent and hardworking.
"The mighty Igbo nation does not depend on anybody to make progress. Ndigbo are sweet people, hardworking people, confident people, dynamic people, gifted people, talented people, and very intelligent people. Our progress on this earth is the hands of God, not any man. Anybody who thinks he can halt or stifle the progress of the Igbo race is wasting his time."
"We shine all over the world, we dominated trade and commerce in the entire West Africa, we engage in business from China, Russia, the whole of Europe, Canada and the United States, South America and Australia. We love education, we love hard work. We also love justice and equity. Those who tried to hold us down in the past, know that God is with us. I can assure you, my dear brother, it is well with Ndigbo."
"Our only problem now is the offensive manner the great Igbo race is been insulted brazenly by two individuals. Ndigbo are pained by this grave unprovoked insult. One of them is the political overlord of a certain region of this country, who through amassing stupendous wealth and the use of strong-arm tactics, decides the political fate of his region. The other is a traditional ruler he anointed not long ago unto a revered traditional stool. Both are taking Ndigbo for a ride, offending and abusing our people, while they both assume they are the smartest people in the universe. Their drama is both funny and sad."
"While the political lion made sure Ndigbo were humiliated in Lagos by making sure Ndigbo were denied the right to vote, the Kabiyesi is going round humouring our people, telling us that we are twin brothers born on the same day and that our love in Tokyo was ordained in Heaven and consummated in the eleventh century. So funny, he just discovered that we are blood relatives, just for the 2023 presidential ambition of the political overlord. Funny he truly thinks our people are fooled."
"Four (4) years ago, another Kabiyesi threatened to drown all our people in lagoon. Now that they are afraid that their unprovoked hostility towards Ndigbo will certainly hurt the 2023 presidential ambition of this overlord, he now sends out the Kabiyesi on assignment to woo and deceive the foolish Igbos. Tell them we are twin brothers, tell them we love them so much, tell them our umbilical cords are tied together and buried at Ile Ife. After that, tell them that we must work together in 2023 because we have a brotherly and joint destiny."
"Their drama is so cheap, so unintelligent, but also offensive. My teenage son asked me: Daddy why didn't this Oba embark on his fake brotherly sermon and visit before now. Why did he discover we were twin brothers only immediately after the elections? My answer to him was simple: because they think we are fools."
Source: Naija News