Scores Feared Dead, Injured As Commercial Bus Burns On Popular Lagos Bridge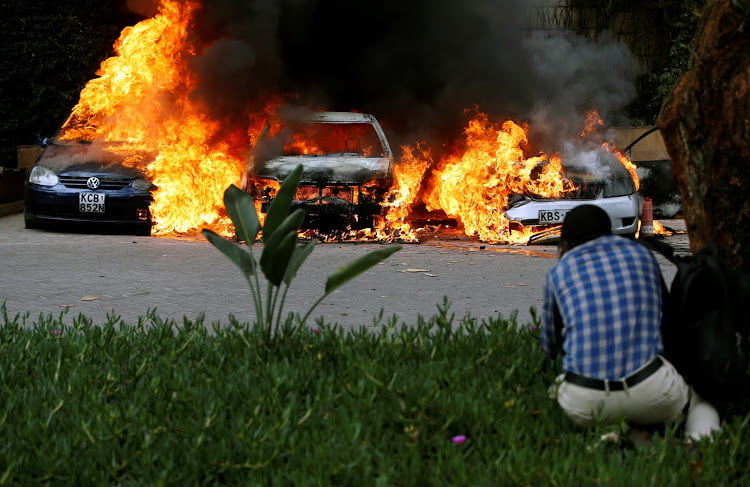 Scores of lives have been endangered when a commercial bus with persons on board went up in flames on a popular and busy bridge in Lagos, Nigeria's commercial city.
Naija News reports that four persons have sustained burns of varying degrees during the inferno that occurred on the popular Oke Afa-Isolo Bridge in Lagos.
Hundreds of commuters were stranded during the incident that was reported to have occurred in the early hours of Tuesday.
The commercial bus was said to have wanted to manoeuvre the traffic, near a fallen fuel tanker before it caught fire on the bridge connecting Oke Afa with Isolo, Okota and some others in the Oshodi-Isolo local government area of the state.
Four occupants of the bus were rushed to the Isolo General Hospital for treatment, a witness revealed.
Naija News understands that the bus while trying to find it was from the area, caught fire when the exhaust of the bus scooped the fuel contained in the pothole on the road.
The truck filled with petrol was said to have fallen off and spilled its content on the road on Monday.
As the bus was ascending the bridge, the exhaust pipe scratched the bridge pavement and ignited fire.
An officer of the Lagos State Transport Management Authority (LASTMA) at the accident scene, confirmed that four of the bus occupants, including the driver, were rushed to the Isolo General Hospital.
He said that the other occupants escaped with little or no injuries.
The tanker marked LSD663XB fell at 5.15p.m. on Monday, blocking the bridge but traffic managers and firefighters worked hard to remove its content and took the vehicle off the road.
However, some fuel spilled into potholes near the accident scene.
The tanker was coming from the Ejigbo Depot.
LASTMA, Federal Road Safety Corps, firefighters and volunteers were working hard to decongest traffic as at the time of this report.