Ezekwesili Roasts Buhari As Leah Sharibu Celebrates 16th Birthday In Captivity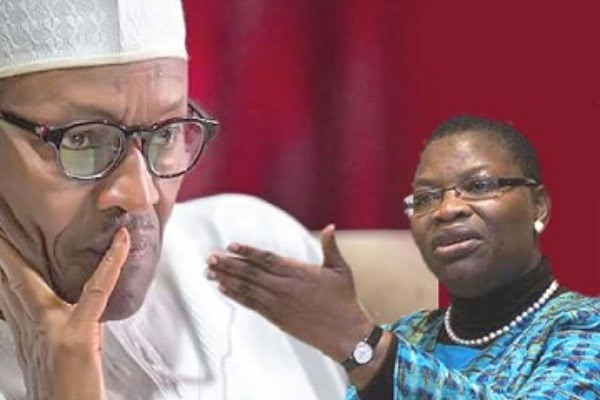 The co-convener of the Bring Back Our Girls Group (BBOG) and former presidential candidate of the Allied Congress Party of Nigeria (ACPN), Oby Ezekwesili, has berated President Muhammadu Buhari over the continued detention of Leah Sharibu, the Dapchi schoolgirl, who was kidnapped by Boko Haram terrorists last year.
Naija News reports that Leah was the only Christian among the 110 students of Government Girls Secondary School, Dapchi, Yobe state, northern Nigeria, abducted on February 19, 2018.
While other girls were released by the insurgents following Federal Government's intervention, Miss Sharibu was allegedly held back on account of her alleged refusal to renounce her Christian faith and has since been in Boko Haram captivity.
Today, being her 16th birthday, Ezekwesili took to the micro-blogging site, Twitter, to celebrate her for her courage in the face of death,  condemning President Buhari for not doing enough to rescue the teenage girl.
"History will record that a young daughter of our country #LeahSharibu was left behind when her schoolmates were retrieved from terrorist abduction.
"She stood unwilling to negotiate her faith for freedom. @MBuhari promised, yet Leah is still with terrorists. She's 16 today. Tragic.
"Nations are like human organisms. Nations can become diseased. Sadly, a people may not realize how Injustice is a Disease that eats up nations.
"A country that handles the abduction of the children of the Poor with levity is unjust. What more does @MBuhari need to hear?" The former Education Minister asked wrote on Twitter on Tuesday morning.
History will record that a young daughter of our country #LeahSharibu was left behind when her schoolmates were retrieved from terrorist abduction. She stood unwilling to negotiate her faith for freedom. @MBuhari promised, yet Leah is still with terrorists. She's 16 today. Tragic pic.twitter.com/ZFkALAzsfi

— Oby Ezekwesili (@obyezeks) May 14, 2019
Nations are like human organisms.
Nations can become diseased.

Sadly, a people may not realize how Injustice is a Disease that eats up nations.
A country that handles the abduction of the children of the Poor with levity is unjust.
What more does @MBuhari need to hear?

— Oby Ezekwesili (@obyezeks) May 14, 2019
Source: Naija News