Bola Tinubu: El-Rufai Insists Lagos Godfather Must Be Defeated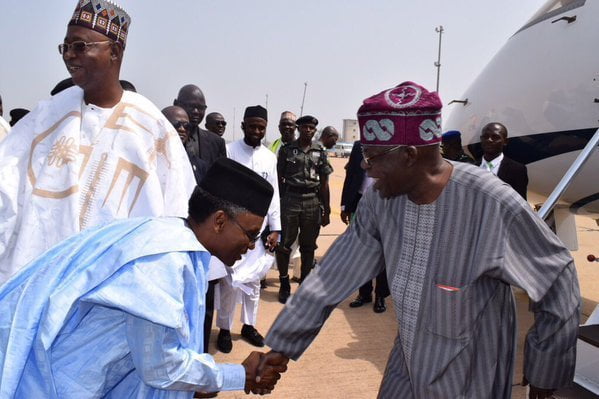 Governor Nasir El-Rufai of Kaduna State has maintained his comment on how to defeat political godfatherism in Lagos state.
He, however, dismissed insinuations that he was talking about the National Leader of the All Progressives Congress (APC), Bola Ahmed Tinubu.
El-Rufai had last week in Lagos said that he defeated and retired four political godfathers in Kaduna State, saying the feat could be replicated anywhere, including Lagos State.
Speaking to State House correspondents after a meeting with President Muhammadu Buhari on Monday, the governor said: "There is no dispute between me and anyone in the APC, the APC is one family. I don't dispute with my own party.
"They may dispute with me but I don't. I made comments in Lagos about how to retire god-fathers, it's a template that we have used in Kaduna and it has worked.
"If anybody thinks he is a god-father, the template may apply to him but I am not in dispute with anyone. I expressed my views firmly and very clearly, there is no human being that I am afraid to express my views on and when I am ready to express my views specifically on a particular name then I will do so but I haven't.
"I made a general statement but people have gone into overdrive, creating fake news, abusing me and so on. I am thick-skin, I can take the abuse and I will wait for my time when I want to…."
On his relationship with Tinubu, the governor said, "We are in the same party, we get along very well as I know."
Bola Tinubu
Asked by journalists if he will want Tinubu retired, he responded: "I don't know if he is the god-father of Lagos, it's up to him to say that.
"What I know for sure is that we have retired god-fathers in Kaduna and I have told those that asked me the question that 'there are six million registered voters in Lagos but only one million voted,' in the last election.
"So there are five million people that you can bring into the electoral playground and you can defeat anyone if you work hard. It's hard work, it's four years.
"That is what I said and if anyone feels offended by that, that is his business or her business."
Lagos godfather
Asked if he wants Lagos to follow his template on the retirement of god-fathers, El-Rufai said: "I have no recommendations to Lagos, I am the governor of Kaduna State.
"I know Kaduna politics pretty well and I played my role in my party towards the success of the party. I have not a recommendation for anyone, I am just saying if I am asked a question and I gave an answer, anyone that feels offended by the answer, it's his own business.
"I have no apologies. I don't apologize for my views. My views are thought-out and I put them there.
"I don't have to explain anything to anyone. This is a democracy, and in a democratic space, there must be room for people to express their views.
"You can disagree, you can abuse me if you don't like my views but that is it."