How Dangote 'Stopped' Ganduje From 'Dethroning' Emir Sanusi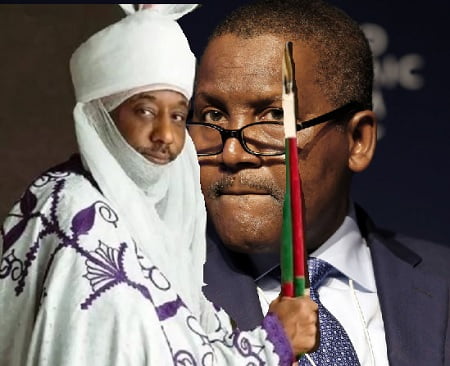 A fresh report has emerged alleging that Africa's richest man and business tycoon, Aliko Dangote stopped  Governor Abdullahi Ganduje from dethroning the Emir of Kano, Muhammadu Sanusi II.
A report monitored on Daily Trust by Naija News, says Sanusi's status as the only first-class emir in the state was whittled when the state government balkanized the emirate, carving out four new emirates and appointing first class emirs to rule them.
The exercise which lasted only two days gave the notion that the government was going after the emir over his rumoured support for the opposition during the recently concluded governorship election.
Naija News recalls Kano state public complaints and anti-corruption last week, commission commenced a fresh investigation. In the same vein, the bid to appoint new first class emirs by the state assembly kick-started almost simultaneously.
It is however believed that the ongoing probe by the state government's anti-corruption agency could lead to charges being filed against Emir Sanusi.
Daily Trust reports that the source in the commission, who craved for anonymity, on Saturday, May 11, said that the ongoing probe on by the commission was targeting the emir, noting that, "it will reach to a point where the commission will transfer the case to court for the emir to defend himself. After our findings, whoever is found wanting in misappropriating the public funds will be dragged before the court."
The report noted that a government source disclosed that Emir Sanusi, after sensing trouble at the turn of events between the state government and the palace lately, sent business tycoon, Alhaji Aliko Dangote, to beg the governor to have a change of mind.
"I can confidently tell you that when the probe was renewed and the move for creation of four new emirates in the state started, the Emir sent the renowned business mogul, Alhaji Aliko Dangote, to Ganduje to plead with him to stop the two moves.
"However, Ganduje in his response told Dangote to go back and tell the Emir that he should choose from three alternatives: To resign on his own or be removed from office or the government will create additional emirates in the state.
"Ganduje assured Dangote that one of the three options must be implemented by government since the emir will not stop playing partisan politics against him. If not for the quick intervention by Dangote, Ganduje would have dethroned the emir," the source revealed.
The newspaper quoted the source to have said source added that even though the governor has spared the Emir being removed from office, there is likelihood that after the turbaning ceremony of the four new emirs, Ganduje will transfer the emir to another emirate and replace him with one of the newly appointed emirs.