Nigerians React As EFCC Arrests Naira Marley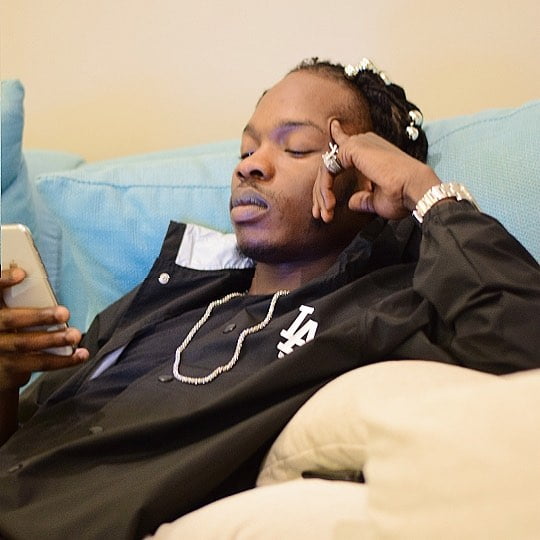 A storm of reactions by Nigerians has greeted the arrest of Nigerian singer, Azeez Fashola, better known as Naira Marley by the Economic and Financial Crimes Commission (EFCC), Nigeria's anti-graft agency.
Naija News had reported earlier that the fast-rising singer is currently being quizzed at the EFFC office in Lagos, Nigeria's commercial city.
The report said EFCC spokesperson could not be reached early on Friday to confirm the arrest but added that a top source at the agency confirmed the arrest.
Although the reason behind Naira Marley's arrest is yet to be made public, it might be in connection with his stance on internet fraud popularly called Yahoo Yahoo in Nigeria.
This online news platform recalls that the singer said in April that internet fraudsters (Yahoo boys) are crucial to the circulation of money in the Nigerian economy.
Naija News reports that Naira Marley made this comment during an Instagram live session on Tuesday, April 23.
During the session, Naira Marley urged Nigerians to pray for internet fraudsters (Yahoo boys) "as they are crucial to the circulation of money in the economy."
"All you guys, all the money in your pockets, all the money you spend, you think it's the government that is making the money go round? You better sit down and pray for yahoo boys. If dem stop yahoo, the money would not pass you guys.
"The money will go like this, from Obasanjo to Tinubu, from Tinubu to Mr Japa, you think me I need Yahoo? I make money from my music," the 'Japa' crooner had said.
Naija News can report that the singer was arrested by the EFCC days after he released "Am I A Yahoo Boy" single, a song which had since become a "national anthem."
Moments after Naira Marley was arrested by the EFCC, Nigerians took to the micro-blogging site, Twitter to air their opinions on the arrest.
Naija News captured some of the reactions below…
Naira Marley : Contact me at [email protected]

EFCC : Can we book you for a show

Naira Marley : Sure, when do we meet

EFCC : Let's meet on Friday and seal off the deal

Naira Marley : I am here for the meeting.

EFCC : pic.twitter.com/SlpytRnipc

— KABIR LATEEF (@Oneboykb) May 10, 2019
Naira Marley got arrested on his birthday ? Am I a Yahoo Boy

— Dr. PamPam | Omo Iya Ologi (@thepamilerin) May 10, 2019
EFCC arrests Naira Marley ,at least give him a studio in his cell let him be giving us jams steady ? pic.twitter.com/2LVMI9a3m3

— Femi Oladun?? (@BreakinglimitNG) May 10, 2019
I always knew there was sth wrong with Naira Marley… How can U be spending NAIRA in MALI?? ???

Even Obi wasn't spending Naira in Nairobi ?? pic.twitter.com/zCSyIsWlnk

— MC_PUNs?? (@2much_opoTBdope) May 10, 2019
This one EFCC don arrest naira marley it's like im changing my name on twitter pic.twitter.com/2WxhoEWGD5

— Apprentice Yahoo boy?‍??‍? (@AdedayoPr) May 10, 2019
When Naira Marley gets to efcc office

Efcc: what's your name?

Him: Naira Marley…

Efcc; tawwwwwwai on his face

Naira Marley; Afeez sir? Fashola Afeez???? pic.twitter.com/0DlAJEdCNs

— Senior Man?? (@olayemi2810) May 10, 2019
Lmaoo?

Your UnderWorld Snoop Dog, most likely thought how else could he promote his song that Talks about Yahoo.?
.
Baba prolly organized to have;
"EFCC arrest Naira Marley in the news"
.
So after some days, he comes out and says:
"Am I a Yahooboy?"
.
?wonderment promotion.

— Kingmaker?Ra's al Ghul II (@SmithVinci) May 10, 2019
Naira Marley : Simi see trouble, am I a yahoo boy? Emi o mo Sars oh, sars ti mo mo is Sarz on the beat.

EFCC : pic.twitter.com/mwLlN1YOi1

— Oreofe (@hooreofe2) May 10, 2019
EFCC arresting Naira Marley is a step in the right direction if it's true. Everyone needs to know that yahoo is still illegal no matter how much they try to justify it, and the best way to go about that is to get their ambassador arrested.

— Olumide O.G (@OlumideOG) May 10, 2019
EFCC: are you not the guy that sang "am I a yahoo boy" with Naira Marley?

Zlatan: I'm not the one oo pic.twitter.com/spgWpsZ8r4

— J O T H A M (@iam_jobaba) May 10, 2019
EFCC calling Zlatan after arresting Naira Marley

EFCC: What are you?
Zlatan : ?????? pic.twitter.com/a3bpYEnapl

— The ONLY GODDESS ??? (@aprilgains) May 10, 2019
EFCC did not arrest Naira Marley
He's shooting the video to his latest song "am I a yahoo boy "

The dude with the huge arm is my training partner
We work out together at our local gym pic.twitter.com/RYYvzPBKMi

— ??wildthoughts?? (@itz_segunfunmi) May 10, 2019
I am not a fan of Naira Marley or whatever he calls himself but efcc arresting him doesn't make sense. On what basis are they arresting him? Don't tell me it's about his live Instagram post where he was kind of showing support for Yahoo Boys.

— Oli Vivian Adaobi (@Oli_AdaViv) May 10, 2019
Naira Marley got arrested on his birthday ?
Why don't I believe this news? pic.twitter.com/s27fJ7PG02

— Danky_of_Port_Harcourt? (@i_am_Danky) May 10, 2019
Davido running to go and delete his "Nobody Holy" post after hearing of Naira Marley's arrest by the EFCC. pic.twitter.com/eSKA0QmeCg

— ITAYEN (@DemGoTyre) May 10, 2019
A rare picture of zlatan when he hears Naira Marley has been arrested pic.twitter.com/toTP6gKgfb

— Daniella ?? (@daniela83369423) May 10, 2019
Zlatan when offered to feature on a yahoo related song after naira Marley's arrest: pic.twitter.com/3XtlmkqM8c

— Mojola #BBNaija (@Mjayjay_) May 10, 2019
When interviewer asks Zlatan what he thinks of Yahoo Boys and the arrest of Naira Marley: pic.twitter.com/9MA8l6LoSR

— Big Brother Parody (@BrotherParody) May 10, 2019
Naira Marley : am not a yahoo boy but contact me at [email protected]

EFCC: pic.twitter.com/CRHIppKIMS

— Daniella ?? (@daniela83369423) May 10, 2019
Naira Marley was arrested by the EFCC on his birthday today ? pic.twitter.com/PvWm33PGWk

— JMBMEDIA (@jeffmanbrand) May 10, 2019
EFCC: what is your name?

Naira Marley: Naira Marley

*Slaps*

EFCC: What is your name

Naira Marley: Afeez Fashola

EFCC: pic.twitter.com/KAjEG2pVRZ

— Retired Sinner (@R_Thobykov) May 10, 2019
EFCC: Naira Marley, you are under arrest..

Zlatan: Me I'm not there o pic.twitter.com/4abcOOTkiq

— Lazy Artist ? (@dsgaert) May 10, 2019
EFCC arrests Naira Marley ,at least give him a studio in his cell let him be giving us jams steady ? pic.twitter.com/jNvAai95XE

— Architect Olamigenius ?? (@Olamigenius1) May 10, 2019
Naira Marley when he gets to police cell and his yahoo friends stop picking his calls pic.twitter.com/MJcZ9pOIYq

— Naira Marley (@STA3RK) May 10, 2019
When Zlatan hears that EFCC has arrested Naira Marley pic.twitter.com/ab9PfKqZGA

— YOUNGER STATESMAN (@clintnazzy) May 10, 2019