UTME 2019: JAMB Issues Network Advisory To CBT Centres, Lists 21 Guidelines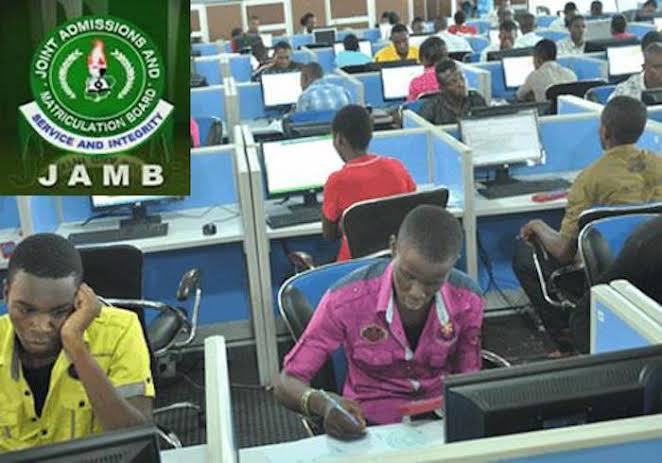 The Joint Admissions and Matriculation Board (JAMB) has issued network advisory to all accredited Computer Based Test (CBT) centres  where the 2019 Unified Tertiary Matriculation Examination (UTME) held.
Naija News recalls that the Board conducted the 2019 UTME between April 11 and 18, with massive malpractice recorded during the UTME, a situation which JAMB officials regretted.
Apparently displeased with the massive malpractice, JAMB banned 100 of the 687 Computer Based Test (CBT) centres over allegation of malpractices and violation of extant regulations.
In a statement which was issued on Thursday night and obtained by Naija News, JAMB said: "Following the conduct of the 2019 Unified Tertiary Matriculation Examination, it was observed that some accredited Computer Based Test centres had varied standards of configuration of Network Installation and Topology which unfortunately affected the smooth deployment and administration of the examination.
"There were cases of candidates and officials that either deliberately or unconsciously disrupted the network by stepping, cutting and/or damaging exposed cables in the examination halls. The current configuration in some of the centres does not allow for quick centres, and thereby led to unnecessary delay in fixing network challenges.
"It is therefore in reaction to this and in pursuance of the need to ensure that accredited Computer Based Test centres run smoothly, efficiently and effectively, that the Board has decided to issue this Advisory Note.
"Please note that this Advisory Note is NOT for 2020 Unified Tertiary Matriculation Examination, rather, it is aimed at the current situation as the Board plans to use accredited Computer Based Test centres for other activities which are to run from now till next year. Any centre that does not adhere to this Advisory Note would be excluded from such activities.
"Technical Advisors and Technical Staff would be visiting your centre in earnest to confirm compliance with this Advisory and this will lead to the categorisation of centres in terms of those whose network are satisfactory or unsatisfactory.
"The Board, therefore, implores all accredited centres to abide by this Advisory in the overall interest of the partnership that currently exists between your Centre and the Board.
"In view of the above, the Board hereby clarifies and restates its specification for the LAN implementations in accredited centers below.
General Guidelines
Network to be implemented will be a STAR The Board has discontinued and stopped the use of Bus or Ring designs.
All Cables are to be hidden by trunks/pipes. Roof channels and non-step surfaces must be used e. there must not be a situation where a candidate can step on trunks/pipes. All implementation partners are to keep in mind easy access to cables for servicing and future replacements in case of cable faults.
All Network switches are to be encased in Network
All cables coming out of the Racks either to server room or to computers must be
Power units powering all switches must be encased and electrically
All cables used in the LAN implementation must be a minimum of CAT5e Cat6 cables is required for new centres.
All single cables used in the deployment of LAN should be 100% pure copper and not exceed
All Network racks should be in the hall at roof level (preferably a total of 2 placed at opposite ends in the hall coinciding with the centre of the hall) and not in server Cable lengths to the server room from extreme ends of the hall will exceed 120feet in some instances if network racks are placed in the server room.
Port 1 in all cases should be used for uplink to Master
The Master switch (located in Server room) must be CISCO or equivalent high-grade Gigabit
All Switches used in the Halls must be a minimum of 100Mbps
All Switches must be connected to a power source with backup facilities (UPS or Inverter).
All network racks must be locked at all times.
All cables should have laminated labelling at both ends for easy
All electrical trunks must be demarcated from LAN cables.
Switches to be installed should have extra capacity on both sides of the hall i.e. For a 275 capacity centre, each side should have 7 switches.
All switches must be rack-mountable and must be racked at all times.
All WiFi and Internet-enabled devices should be switched off during examination.
No client computer should have an internet connection in any way during the examination.
Earthing: The building and electrical connections should be earthed and reviewed The server, switches, network racks, inverters, solar panels, charge controllers and other network and power equipment should be connected to the earthing system of the building.
All centres should be regularly fumigated for rodents as they have been known to eat network This also implies that centres are advised to desist from having staff eat or dispose of food inside or around the centre," the statement added.
Kindly click HERE for an update on when JAMB will release the results or check HERE for your results.