See Nigerians' Reaction To Governor Emefiele Second Term Nomination As CBN Governor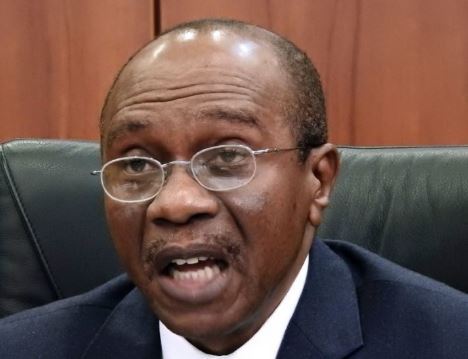 Earlier today President Muhammadu Buhari nominated Godwin Emefiele for a second term as governor of the Central Bank of Nigeria (CBN).
It will be recalled that Naija News reported that the President of the Senate, Dr. Bukola Saraki has also during plenary, read the nomination letter.
BREAKING: The President of the Senate, Dr. Abubakar Bukola Saraki, has just read a letter from President Muhammadu Buhari, reappointing the Governor of the Central Bank of Nigeria (CBN), Godwin Emefiele, for a second term.

— The Senate President (@SPNigeria) May 9, 2019
Meanwhile, the nomination has been greeted by Nigerians with mixed feeling, as some Nigerians praised the nomination, others feared the power of dominance.
I am a critic of President @MBuhari because I believe he is inept, and tribalistic. However, when he does well, I must commend him. In nominating Godwin Emefiele for a 2nd term, Buhari showed he is listening and is slowly shedding his clannish nature. For that, I commend him.

— Reno Omokri (@renoomokri) May 9, 2019
"Godwin Emefiele" I am impressed PMB could disappoint it critics by extending the CBNs Governors tenure. I only hope his extension is not politically motivated just to make a Point. That is needless at the moment! pic.twitter.com/3wKf2lLPXs

— OBA (@obabiliamin2023) May 9, 2019
Oga reno you dont have to comment on every issue. So because of this act he is now listening. Who told you he is aware Emefiele is the CBN governor sef

— BIBIRE (@olaajani) May 9, 2019
So his grand contribution towards the rigging of the February 23rd general election has been recognized! He didn't labour in vain after all!

— Ch1nn1ieDuchess(Mke) (@Rhumeey) May 9, 2019
Godwin Emefiele, the worst CBN gov in recent memory has been nominated for a second tenure.

He must be supplying the cabal with dollars at $1- N150 daily??

Anyway, Next Levellllllllllllllllllllllll

Where's Soludo ? He can't write articles anymore?? pic.twitter.com/OUa5xhaGAY

— IKECHUKWU (@iykimo) May 9, 2019
Godwin Emefiele has just been reappointed as CBN governor for another term.. Wailers are suddenly quiet, if the CBN governor had been from the North or South West, social media, PDP, our people from other side won't allow Nigeria to rest. But now democracy isn't in danger. pic.twitter.com/BKRT0MqG2s

— OMO IYA WAEC (@romanticboy77) May 9, 2019
@PaulWallace123, I think you owe President Buhari an apology for some of your previous analysis on this issue. I also hope you will, in the future, show more restraint on issues like these

— Saadu Jijji (@saadjijji) May 9, 2019
Read More News. Download Naija News App. Send us enquiries and press releases.