Nigerians Reacts As Ganduje Ends Sanusi's Dominance, Assents To Emirate Bill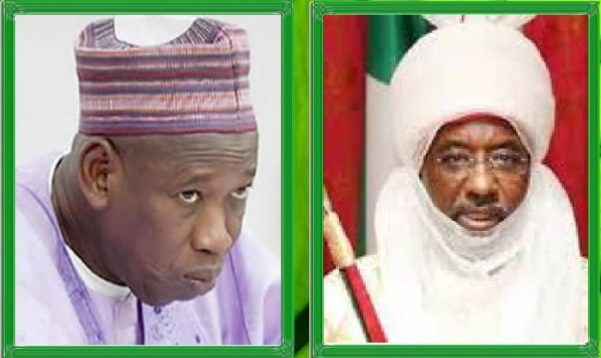 Kano State Governor, Abdullahi Ganduje, on Wednesday, gave his assent to the Emirate bill passed by the Kano State House of Assembly on breaking up the Kano Emirate in the state.
Naija News reports that this is coming after the state Governor had vowed to give his assent to the emirate bill if presented before him.
With the development, Kano now has five emirates and are; Kano, Rano, Gaya, Karaye and Bichi, while the domain of Muhammadu Sanusi, the Emir of Kano, has been reduced.
With this development, Emir Sanusi now controls only 8 of 44 local governments in the Emirate.
The action of the governor and the state assembly has been received with mixed feelings by Nigerians.
Here are some of the reactions
The Sanusi drama is just the beginning…

A future President will sack the CJN. Another one will appoint an EFCC Chairman despite Senate opposition.

One will appoint all his relatives as Ministers.

Hopefully, no one will pretend that they didn't see it coming..

— Gege (@nigeriasbest) May 9, 2019
When tyranny went after Saraki & NASS, what did Emir Sanusi say? When they broke into judges' homes at night, what did he say? When they went after Onnoghen, what did he say? When they went after Zakzaky, what did he say?

Like I always say, the tyranny is enough to go round.

— Comrade Deji Adeyanju (@adeyanjudeji) May 9, 2019
I have always had strong differences with Emir Sanusi of Kano, from the days we were together in the Progessive Action Movement (PAM) in 2000 up until the time he was Gov. of Central Bank but I have always respected him.I deplore the attempt to destroy him by the powers that be.

— Femi Fani-Kayode (@realFFK) May 8, 2019
Woke up to see some tweets rejoicing at Emir Sanusi's travails because he 'fought against GEJ'.
Imagine being salty because someone blew the whistle against corruption!

Some of you people are Bastards sha.

— Pete (@Texazzpete) May 9, 2019