Abacha's Loot: Suspicion As Judge Adjourns The Cable's FOI Case Against Malami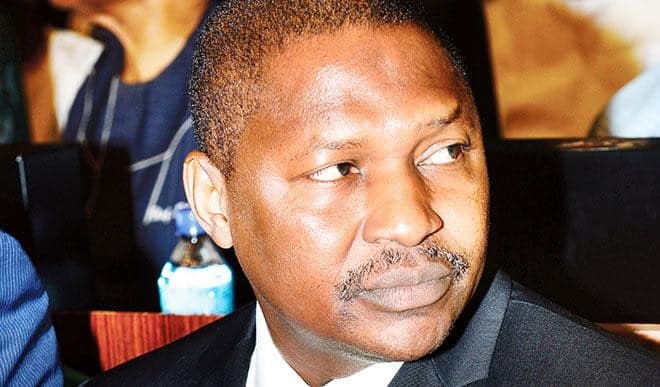 The  Cable has alerted Nigerians as Inyang Ekwo, a judge of the federal high court in Abuja, refused to entertain its counsel in the case against Abubakar Malami, the attorney-general of the Federation (AGF).
The of Cable Newspaper Journalism Foundation (CNJF) had sued the AGF for refusing to respond to a freedom of information (FoI) request on the engagement of lawyers for the recovery of the $321 million stolen by Sani Abacha, the former military ruler, the cable reports
The case, with suit number FHC/ABJ/CS/27/2018, was filed on behalf of the foundation by Kusamotu & Kusamotu law chambers on January 10, 2018.
The foundation is seeking an order of mandamus to compel the AGF to provide details on the impending repatriation of Abacha loot.
It sought to know the reason behind the engagement of another set of lawyers to do a job that had already been completed by Erico Mofrini, a Swiss lawyer engaged by Nigeria since 2000.
After the series of adjournments, Ekwo had on April 21, 2019, agreed that the motions filed by both sides would be deemed adopted at the next hearing on May 8, 2019, after which he would give his judgment even if the counsel to the sides failed to appear in court.
On Wednesday, there was no legal representation for the AGF, and CNJF lawyers reminded the judge of the order he made but the judge declined and instead made an order summoning the solicitor-general of the federation to appear in court on Thursday to conduct defense on behalf of the AGF.
The AGF was represented by a counsel who was ready for the hearing on Thursday but the judge insisted that no counsel other than the solicitor-general in person would handle the defense for the AGF.
In what appears another frustration of the case, on being reminded that the AGF was already represented and no law made it mandatory for the solicitor-general to represent the AGF in order for the matter to be heard, Ekwo angrily rose without adjourning the matter to any date.
Oladipo Okpeseyi, a senior advocate, and Temitope Isaac Adebayo, the lawyers engaged to duplicate Monfrini's job had already been paid, despite the outcry.
Abiose Adams, programme officer of the foundation, said the FoI request was sent on December 7, 2017, and the AGF's office acknowledged receipt on December 8, 2017.
The Cable had reported how the AGF frustrate the probe of the lawyers' fee. Apart from refusing to provide the documents requested by the house of representatives ad-hoc committee set up to investigate the matter, Malami also decided to use the courts to stall the probe.
Source: Naija News