Protests As Banditry Operations Breeds Food Crisis In Zamfara States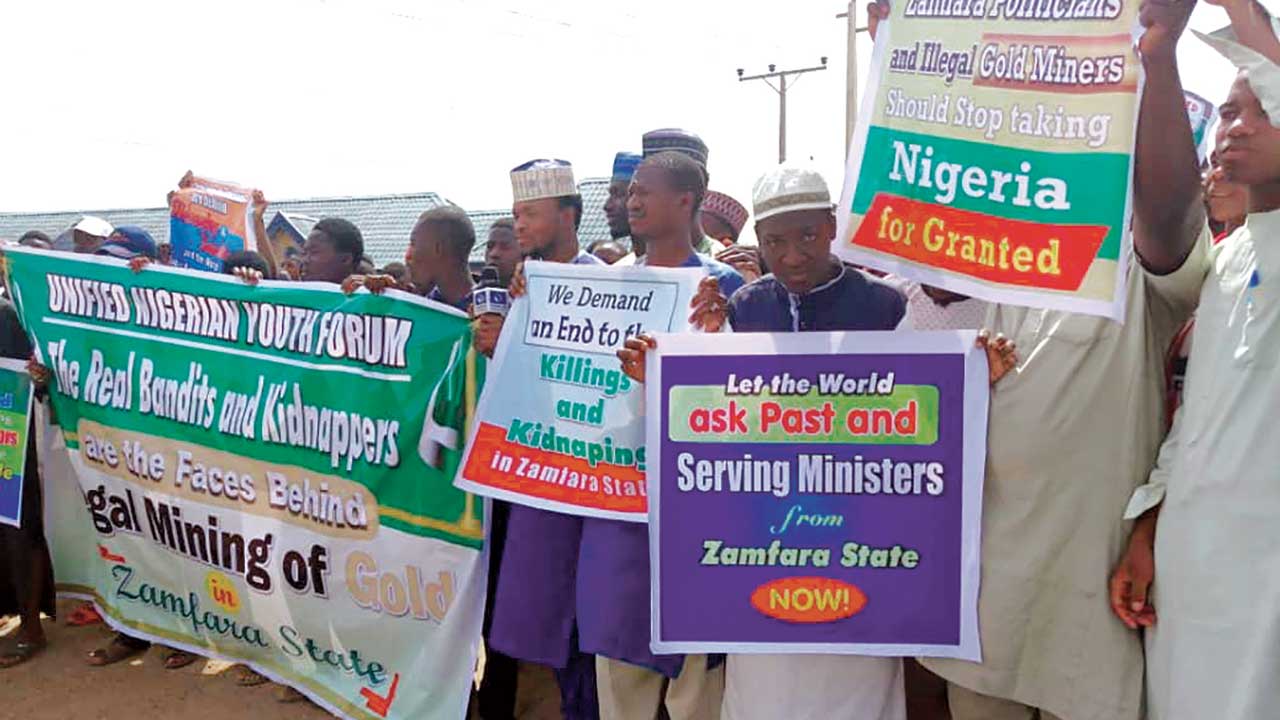 A coalition of Northern Nigerian Youth Associations under the umbrella of Arewa Youths Federation (AYF) yesterday protested in Zamfara State yesterday, urging the government to checkmate the activities of bandits in the state.
The demonstration followed the reported killing of about 50 persons in three local government areas of the state at the weekend as reported by Naija News.
"This breach is now extending from killings to targeted abductions that are intended to be high-profile. These crimes are also beginning to spill into neighbouring states," AYF President Adamu Matazu told News Agency of Nigeria (NAN).
He regretted that despite "well-intended steps so far taken by the Federal Government and implemented in part by the nation's security and military services, the situation remained unabated."
According to him, this has confirmed longstanding fears that political elites and traditional rulers in parts of the country are behind the wave of violence.
"The crux of the matter is that these elites are operating illegal gold mines, knowing full well that the practice violates local and federal laws. They are also aware that their activity, which thankfully has been stopped by the Federal Government, is detrimental to the state economically, environmentally, security-wise and socially.
"The AYF hereby calls for an end to killings in Zamfara and the whole of northwest Nigeria. Our call is imperative because we stand by the people of Zamfara. We assure that we are not powerless as a people to demand respect for human life in this part of Nigeria and across the country," he said.
His appeal, according to the Guardian, followed a warning by the Emir of Katsina, Katsina State, Alhaji Abdulmumini Kabir Usman that the region could face a food crisis unless kidnapping and banditry were contained.
The monarch spoke when Minster of Agriculture and Rural Development Audu Ogbeh and Central Bank of Nigeria Governor Godwin Emefiele visited him at his palace yesterday. Both men were in the state to launch the distribution of cottonseeds to farmers.
"Those living in the rural areas are the worst affected as they are frequently killed, maimed and set ablaze at will and no one is protecting them. No one in the rural area is farming at the moment. They have fled and their farms have been burnt. We have a looming case of food scarcity in our state currently," he said.
"Please, take my message to the president. Tell him to help us and save us from banditry and criminality. No one is safe in the state again. Let him ensure the prompt release of the Magajin Daura," the emir appealed.
Naija News recalls that Gunmen, last week Wednesday Kidnapped district head of Buhari's hometown(Daura), Alhaji Musa Umar