Pictures: Donald Trump Decorates Tiger Woods With America's Highest Civilian Honour
President Donald Trump has awarded golfing legend Tiger Woods the Presidential Medal of Freedom, the nation's highest civilian honour at the White House following his fifth Masters' victory last month.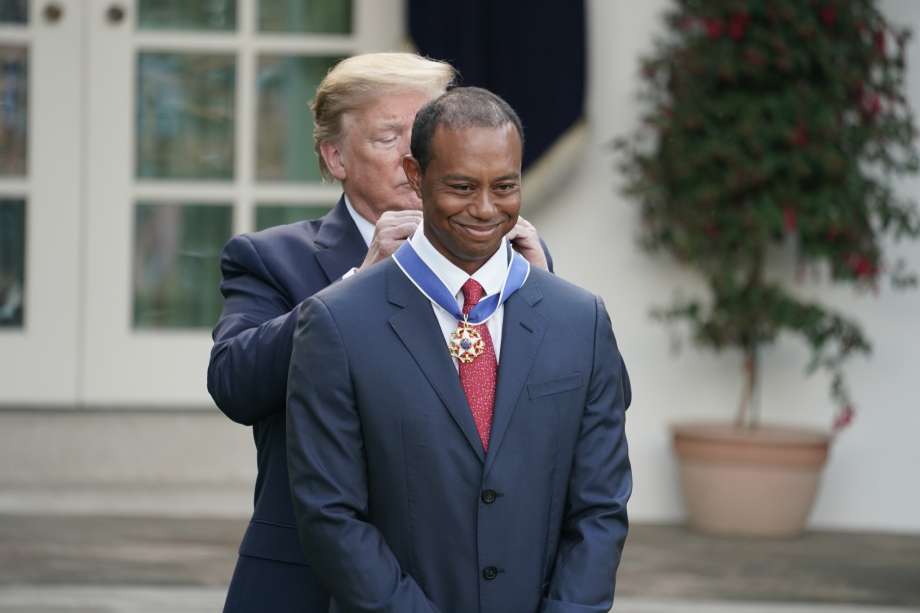 The president in his speech said that Woods, 43, is 'one of the greatest athletes in the history of sports' and has inspired people worldwide with his barrier-breaking victories.
"These qualities embody the American spirit of pushing boundaries, defying limits and always striving for greatness," the president said.
"Your amazing comeback and your amazing life and for giving sports fans a lifetime of memories.
"We can't wait to see what's next, Tiger," said Trump.
Naija News understands that the 43-year old Tiger Woods thanked his mother, his two children, his girlfriend and his caddy during the ceremony in the White House Rose Garden.
"You have seen the good and the bad, the highs and the lows," said Woods, who battled back from injury to win the Masters last month, his first major title since the 2008 US Open.
"My dad is no longer here, but my mom is here," Woods said. "I love you, Mom.""I have tried to hang in there and I have tried to come back and play the great game of golf again," Woods said."I have been lucky enough to have had the opportunity to do it again."
He said his Masters victory was "probably the highlight of what I have accomplished so far in my life on the golf course.
"To have had that type of experience and to be able to come out on top and win," he said.
'He's also a great person. He's a great guy,' Trump declared. 'He inspired millions of young Americans with his thrilling wire-to-wire victories. Tiger Woods is a global symbol of American excellence, devotion, and drive.'
Download NAIJA NEWS app: