Shiites Provide Proof El-zakzaky Is Blind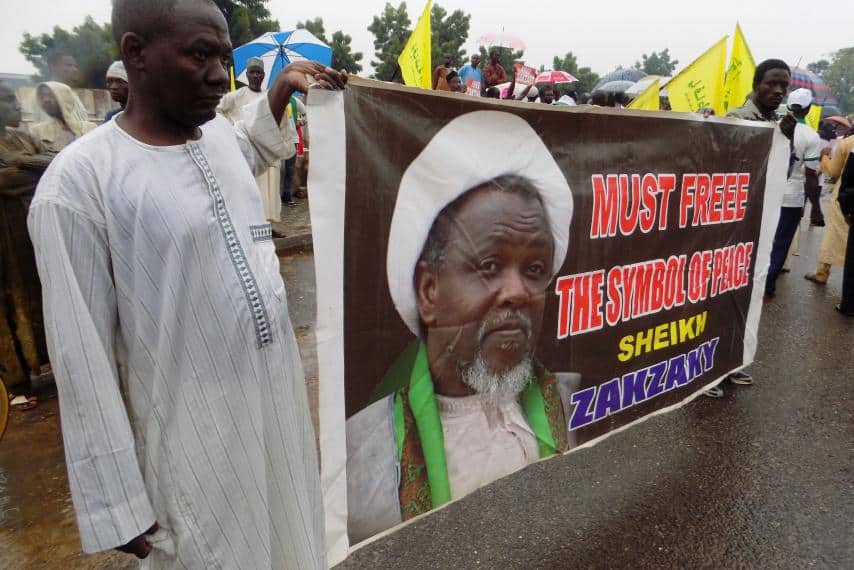 Members of the Islamic Movement Of Nigeria ( IMN), has shown picture evidence to support the claim that their spiritual leader, Sheikh Ibraheem El-Zakzaky, is blind.
The group made the presentation of the old picture of El-Zakzaky where he was with his sight and new picture depicting the blindness of his left eye to the officials of the National Human Rights Commission ( NHRC ) during a protest in Abuja on Thursday.
The Secretary of the Academic Forum of the movement, Abdullahi Mohammad Musa said that the visit by the team of doctors and Islamic Human Rights Commission ( IHRC ) has exposed Nigeria government of inhuman treatment meted out to him.
Musa said the movement has insisted that the security operatives shot him in the eyes and the left eyeball popped out during the Zaria massacre in 2015.
According to him "On the 25 April 2019, a delegation of expert doctors and consultants led by the Islamic Human Rights Commission (IHRC) gained access to Sheikh Zakzaky (H) and his wife, and conducted initial medical investigations on both the Sheikh and his wife.
"The investigations revealed that the couple needs urgent treatment that could only be obtained outside Nigeria. Thus, we are demanding for the unconditional release of the couple to enable them to take care of their health."
He said that the movement has been vindicated with the pictures depicting El-Zakzaky visually impaired.
Musa, therefore, noted that his health condition has deteriorated and there is an urgent need for him to seek medical attention.
"The news of the deteriorating health conditions of the Sheikh and his wife has been recently widely reported by social and mainstream media both locally and internationally.
"And the preliminary reports given by the foreign Doctors suggest the need for intensive medical attention in a more well-equipped hospital abroad to treat the health issues of the couple," Muhammad stated.
Read More News. Download Naija News App. Send us enquiries and press releases.