How We Were Raped, Assaulted By FCT Police – Ladies Narrate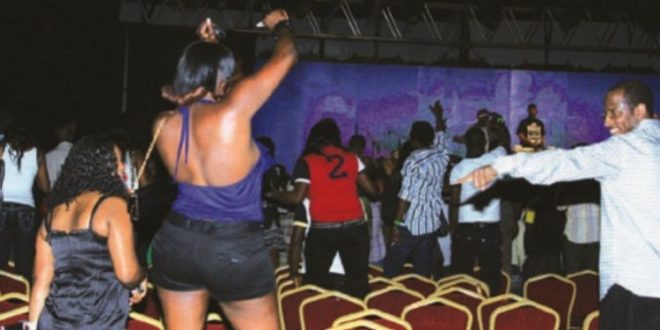 Some ladies in the Federal Capital Territory (FCT) who were accused and convicted by a mobile court for prostitution have alleged that policemen attached to Utako and Gwarimpa police stations in Abuja raped and physically assaulted them while in custody.
They spoke on Thursday in Abuja at a media briefing on the arrest of about 100 women in public clubs and street in Abuja organized by a coalition of women groups and civil society organizations (CSOs), Daily Trust reports.
The ladies claimed that they were compelled to plead guilty and be asked to pay fines before they were arraigned before the court on Monday by the police or be summarily sent to jail if they refused to plead guilty.
The ladies who spoke while facing the wall, said they were arrested at a night club, thrown into a cell, repeatedly tear-gassed and beaten especially by a Police Officer in Utako known as 'Oga Yellow'.
One of girls said 'Yellow' hit her with a baton and horsewhip several times, injuring her arm and face in the process.
Confirming her claim, her co-convicts also lamented the alleged emotional abuse and physical torture they suffered while in police cell last week.
Another victim who claimed to have been arrested at a shopping plaza said the policemen attached to the FCT ministerial task raped her when she could not pay them.
"Three of us were brought out of the van and raped by the policemen because we had no money to give them. We were raped behind the National War College. They pushed me to the ground and held me there while one of them raped me.
He didn't wear a condom. The other girls were also raped by two others; one of them used a pure water sachet as condom," she said.
Another lady said she was picked up by the police at a hotel where she attended a birthday party.
According to her, "I was invited to a birthday party at an apartment in a hotel. I came to the reception to get bottle water, a woman held my hands and pushed me out of the hotel and I saw lots of people with cameras and some with mobile phones taking my pictures and shooting a video of the arrest.
Some of the activists who spoke at the briefing urged the Federal Government to end sexual harassment and unlawful detention of women by the law enforcement agents in the country.
"We are calling on the Federal Government of Nigeria to curb the excesses of the officials from the Federal Capital Territory Administration (FCTA) Joint Task Team, which is made up of the Department of Development Control, Abuja Environmental Protection Board (AEPB) and the Social Development Secretariat (SDS)," Mr. Anthony Nkwocha in one of the comments.
The acting FCT police spokesman, ASP Gajere Danjuma, said that 65 ladies were arrested by the task force set up by the FCT minister, and that 38 were released after they were profiled.
Danjuma, said the commissioner of police was aware of the allegations and that investigation are ongoing.