Mother Of Zainab Aliyu Recounts How Saudi Arabia Took Custody Of Her Daughter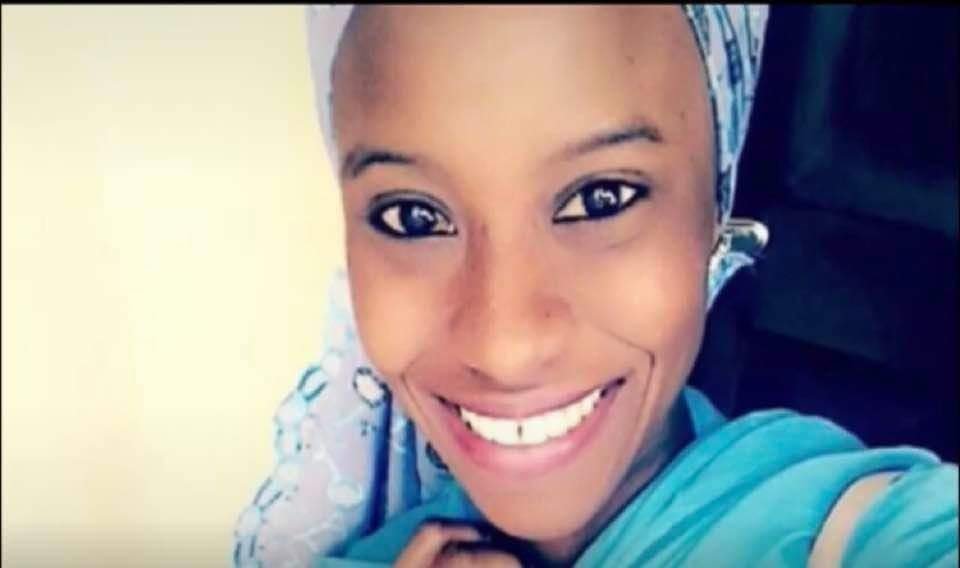 Maryam Habib Aliyu, mother of Zainab Aliyu, the girl who was released from Saudi authorities detention after Nigerian authorities were able to prove her innocence from alleged drug trafficking has narrated how the events took place.
Zainab who was arrested in December 2018 with Tramadol, a banned substance and was released after the Nigerian government was able to prove that the drug was planted in her luggage by a cartel that specializes in planting drugs in the bags of unsuspecting travelers.
Hajiya Aliyu who thanked President Muhammdu Buhari for ensuring her daughter's release told Daily trust that her daughter was arrested on December 26.
It was gathered that Zainab left Kano aboard Ethiopian Airline for a lesser Hajj in Saudi Arabia on December 24, 2018. She was accompanied by her mother, Maryam Habib Aliyu and sister Hajara Habib Aliyu.
They had a stop-over at Addis-Ababa, the capital of Ethiopia on December 25 before they proceeded and arrived at Jeddah on the early hours of December 26. According to Zainab's mother, they were conveyed from Jeddah to Madinah in buses and they arrived around 11:30 am and went straight to the hotel where their agent booked for them. "But we did not stay in that particular hotel.
We only went there to inform our agents that we are not staying there and the hotel we intended to stay in case they may want to look for us," Hajiya Maryam also told Daily Trust.
According to Maryam, after checking into their hotel, they went straight to the Prophet's mosque and observed Magrib prayer.
"We wanted to wait until after Isha prayer, but Zainab and Hajara insisted that we should return to our hotel to have some rest. So we left the mosque to the hotel.
"On our return to the hotel, we ate our dinner and stayed for some minutes before I retired to bed and left Zainab and Hajara watching TV in the sitting room. After sometime, they also joined me in the bedroom. However, the next thing I heard was someone at the door. And when I woke up and opened the door, I saw some Arabs and two black men standing. "They asked us some few questions related to our luggage.They asked whether we have left some luggage at the Jeddah airport and I told them we have not left any luggage.
Maryam who said she showed the men their luggage noted that the men ransacked everything in their possession and afterwards took Zainab, her daughter with them
Her words; I showed all our luggage to them. They demanded to search our luggage and we allowed them because we believed we did not carry anything incriminating in our luggage. "After searching our luggage, they also ransacked the house thinking that they get something incriminating but Alhamdulillah they did not find anything of such nature.
After the search, they said they were going with Zainab for questioning because the bag they found with drugs was bearing her name.
"At the first instance, I resisted but the two black men who were fluent in Hausa language convinced me that nothing will happen to her and that the Arab people are officials of Saudi Arabian drug agency.
I allowed them to go with her believing they will return her to me after questioning." However, since the security agents went with Zainab, the family did not hear anything from her until the next day after Maryam called the number of one of the black men that accompanied the Arabs. The man assured her that nothing bad would happen to her and promised to find out from the security agents.
"After some minutes, he called back and informed me that the security men could not question Zainab the day she was taken. He said they will allow her to pick her calls and that I should call her line. I obliged and she answered immediately, she confirmed to me that they were on their way to Jeddah.
"We did not hear from Zainab until the next day the December 27, when a lady called my line and told me that Zainab wanted to speak with me but I should buy her 30 Saudi riyals worth of credit with which I will speak with my daughter. That was how Zainab told me that she was in the prison over alleged drug trafficking," the mother said
She said Zainab's father also immediately reported the matter to the National Drugs Law Enforcement Agency (NDLEA), Federal Airport Authority of Nigerian, Nigerian Embassy and other relevant authorities.
"So, to cut it short, this is how my daughter Zainab was arrested by the Saudi Arabian authorities over alleged drug trafficking. I thank Allah who spared my life to witness this historic day in my life.
Meanwhile, credible sources in Saudi Arabia and Nigeria also told the Daily Trust that Saudi authorities were fully convinced that Zainab was innocent.
One of the sources said: "The Nigerian government had provided incontrovertible evidences that the girl was not aware of the luggage in which the 2000 packs of tramadol (a pain killer) were concealed.
"Secondly, President Muhammadu Buhari has enormous goodwill from Saudi authorities…In fact, the authorities believe if the girl had anything to do with the drugs, the president would not have intervened, she would have been left to pay the consequences. "
And thirdly, the girl had passed through all the necessary layers of interrogations while in custody and proved her innocence," he said.
Another source said the prompt arrest of the culprits at the Malam Aminu Kano International Airport from where Zainab and her family members flew to Jeddah, Saudi Arabia, added impetus to the negotiations that led to the release of the girls.
"None of those arrested has denied complicity and as a signatory of some conventions, the Saudi authority felt the girl should be released," he said. Asked if the Saudi authorities would ask for the suspects to be repatriated, he said "No, not all.
The crime was committed in the shores of Nigeria. It is Nigerian Authorities that should handle it. However, one thing that is clear is that the authorities need to strengthen their procedures in their airports."