Nigerians React To Boko Haram Fighters' '$3,000 Daily Allowance'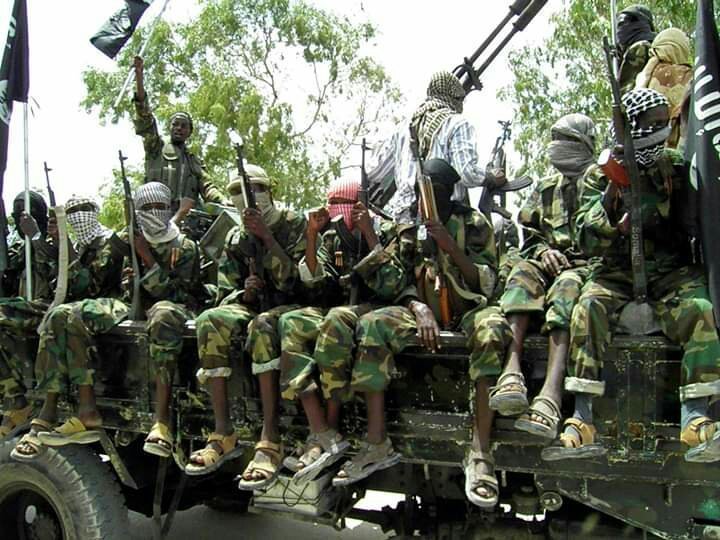 A storm of reactions by Nigerians has greeted comments made by the member of the Presidential Committee on the North East Initiative (PCNI),  Sidi Ali Mohammed that Boko Haram fighters were being paid $3,000 daily as allowance compared to Nigerian troops N1,000 daily.
"I will give you an example. The Nigerian military, for example, gets N1, 000 per day for being in the North East, at the war front, as an allowance.
"The same North East, where if you are a member of Boko Haram you get $3,000 per day as allowance. So it is lucrative.
"Sometimes they even give you money upfront. So we must do something about the youths from where they are recruiting.
"If it is amnesty that will guarantee that peace, then we have to think of it.
"Most importantly, we need to deplete the army of youths on the streets and take them away from the streets so that Boko Haram does not recruit them," he had said.

Apparently shocked by the comments, Nigerians took to the micro-blogging site, Twitter to air their opinions on the matter.
Naija News captured some of the reactions below…
Honestly: this is ridiculous. Not a chance. Just finding new ways to explain away epic systemic failings. https://t.co/gFVTwZVh9a

— Nigel Holmes (@HolmesNigel) April 30, 2019
Boko Haram fighters earn $3, 000? 3K American Dollars?

Lie from the pit of hell. Can we get a copy of the pay slip please.

True, Nigerian soldiers can do with better pay and welfare but to say they earn below 100 Naira and Boko Haram $3K is stretching it too far. Asodun https://t.co/p4XCjSzgQL

— Kayode Ogundamisi (@ogundamisi) April 30, 2019
Boko Haram fighters receive 1 million naira daily as payment. Should we pay our soldiers who fight Boko at least 100k daily?
RT if our soldiers deserve at least a 100k daily.
Like if think minimum wage is eough for our soldiers.#Nigeria #IronPolls pic.twitter.com/a0a1ClKXOt

— Iron Polls 非洲民意调查 (@ironpollsafrica) April 30, 2019
Do you have Boko Haram Recruit form,Abeg? pic.twitter.com/XLvhRWL58y

— ? (@omo_west_) April 30, 2019
Wonder wonder wonder Boko Haram pays a fighter $ 3000 daily while a Nigerian soldier fighting Boko Haram receives #1000 daily. interestingly, Boko Haram pays upfront.

— Mohammad Tajudeen Adio (@MohammadTajudee) April 30, 2019
Boko Haram fighters paid $3,000 daily, says presidential committee – The Nation Newspaper
Mehn $3000 daily? Do you people just pull figures from the sky https://t.co/RIAMZpHqVE

— PATRIOT (@scarfizal) April 30, 2019
Boko haram fighters are paid $3000 daily while Nigerian army are paid 1000 naira as allowance daily.. imagine the margin.. This country still remain a joke to me!!

— chuks vincent (@chuksanowa) April 29, 2019
Men! $3000! Plx who knows wer i can submit my CV for boko haram training?

— Emmy (@Itzhairy) April 30, 2019
If I was offered this I'd take it without thinking twice. Boko haram has better weapons anyways.

$3000 x 30days = $90000 Equivalent to naira is over 32million. Now tell me who is funding them if not the government ? https://t.co/Om5ZRbFEoq

— Deji (@felakinging) April 30, 2019
Who is paying each of Boko Haram fighters $3000 daily? what would they need that kind of money for in Sambisa forest, haba stop all these lies. God save Nigeria

— Lawrence Daniel (@Lawrenc90339805) April 30, 2019
$3000 boko haram business is a good business

I know they will add insensitive if they kill more life's ? https://t.co/6F0zyRqc3V

— QUDUS (@QdPaper) April 30, 2019
This can't be true, how do they get the money to pay$3000 per Terrorist a day? Even the US military don't pay this much. The guy is flying a kite to see how much they can fleece the govt. in this boko haram job.. #workchop

— Ini Udom (@ekpe) April 30, 2019
But come oh you mean boko haram fighters get $3000 /day ??? Hmmm interesting …*thinking of who to fight for now *

— Black Geezus (@pricaso7) April 30, 2019
I strongly believe you are stylishly rooting for Boko Haram, with your fake news, $3000 to 1000 naira per Nigerian police, encouraging people to fight for Boko Haram. Journalism at its best you think you doing. Shame on the whole sahara team.

— akinosho abdulhakeem (@olaoluwajagaban) April 30, 2019
@IFM923 that information by the member of the panel on $3000 for Boko Haram has been faulted by Ahmed Salkida and I agree. If he had said $500 it would ha e been believable

— Chukwuemeka Nwosu (@emekanws) April 30, 2019
@RaypowerNetwork By stating that Boko Haram pays as much as $3000, aren't they subtly advertising for Boko Haram recruitment? Shouldn't such information be kept off the public, even if it's true?

— Eze Victor Uwaezuoke (@uvictoreze) April 30, 2019
This statement by Dr Sidi is preposterous, where will the fighters get $3k daily? There are at least 6k fighters spread across the two main factions in the #LakeChad, 95% have never seen $3k in their lifetime. The only incentive is crumbs from fai'u and the promise of paradise. https://t.co/BSacWKMi9u

— Ahmad Salkida (@A_Salkida) April 29, 2019