Battle Line Drawn As Yahaya Bello Dares Dino Melaye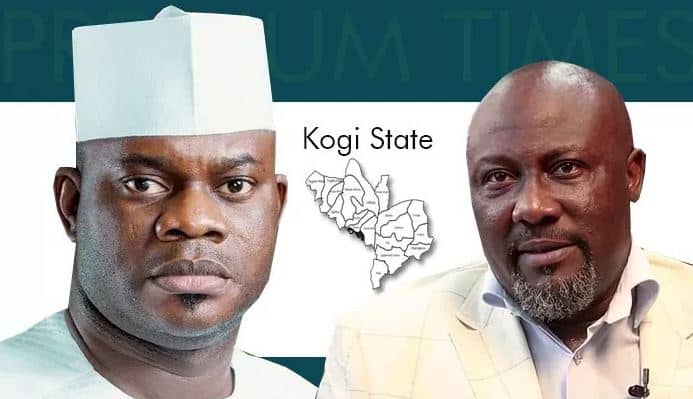 The governor of Kogi state, Yahaya Bello, has challenged Dino Melaye, a senator representing Kogi West at the Nigerian Senate to go ahead and publish the expenditures of Kogi government between 2016 to 2019.
Naija News reports that the Kogi governor made this claims through his Director General of Media and Publicity, Kingsley Fanwo.
This online news platform understands that Fanwo made this comment at Takete Ide Amuro in Mopamuro Local Government Area while briefing journalists after APC stakeholders' meeting in the ward.
Melaye had accused Bello of mismanaging almost ₦2billion belonging to the state through awarded contract.
Reacting, Bello said, "a good student of accounting and common sense will do good by publishing both income and expenditure."
He said the Kogi people have seen the Rice Mill the Governor is building and the roads under construction, saying any form of "illogical incitement will be counterproductive."
His words: "You can see the executives with me here. These are the people who will determine who flies our party ticket in November. The person they know is GYB and they will go all out to give him a second term.
"All the people dancing around Abuja are not known to the people. We also thank the federal government for giving us three boreholes in my ward. No senator should claim the glory of the APC federal government project. Our people are well informed now more than ever," he said.
Bello also thanked the people of the community and indeed the state for their solidarity during the assassination attempt on him, saying the action of the "cowards is a mark of their impending loss in 2019."
"They could not stand the truth. But we shall show them our security architecture is capable of exposing their evil plans against government officials in the state.
"We have not even started yet and they are fidgety. Their mouthpiece Senator should know that the people who are candidates of prison are the fraudsters that led the state in the past."
Fanwo added that the spinners of the fake news and falsehood about the governor are people well known to members of the public.
"We know the promoters of these fake news and propaganda against the person of the governor and the government of Kogi State. They are discredited individuals who have been fingered for inducing judges with dollars; those who threatened to commit suicide in order to implicate others; those who coordinated the killing of our students and innocent citizens and those who turned themselves to monkeys and stayed on the tree for 12 hours.
"All these ignoble theatrics are well profiled in the minds of our people. They work against their people for political gains. But today, they have been dumbfounded by the success of the governor at the polls. He has shown the world that the people are solidly with him."