Poisonous 'Ponmo' Now In Nigerian Market, Govt Warns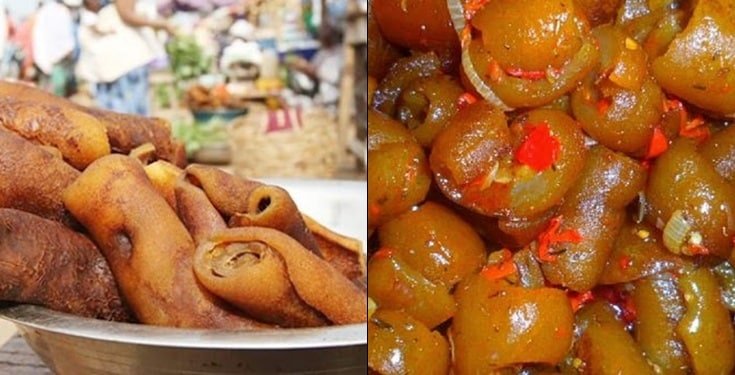 The Lagos state government has warned residents of the state of the circulation of "poisonous ponmo" in some markets in the state.
Naija New understands that the director of public affairs, Lagos ministry of health, Adeola Salako gave the warning in a statement obtained by this news platform.
Salako said three persons have been arrested for selling "poisonous ponmo" in Ojo and Iba local government areas of the state.
Salako said the cow-skin was seized in large quantities, adding that samples of the confiscated ponmo had been sent to the National Agency for Food and Drug Administration and Control (NAFDAC)  for testing whether the cow-skin is suitable for consumption.
"The Commissioner for Health, Dr. Jide Idris, who disclosed this in his office today (Sunday) while reviewing report of preliminary investigation and enforcement carried out on the sale of the toxic ponmo in the areas, stated that the three persons involved have been charged to court, while samples of the confiscated ponmo had been sent to the NAFDAC laboratory for suitability test analysis for human consumption," the statement said.
The commissioner noted that the attention of the state government had been drawn to the activities of traders who deal in the sales of the poisonous cow-skin at odd hours in different locations in the two local government areas.
Salako called on the people of the state to be vigilant and report any unwholesome foods and food products to an environmental health officer in their nearest local government or to the ministry of health.
"Preliminary investigations and suspects tracing revealed that the traders were very active in the early hours between the hours 4.00am and 6.00am at various locations such as Volkswagen busstop, iyana iba, Afolabi Ege Markets, all within Ojo local government and Iba local council areas of the State," he said.
"Furthermore, a company said to be located at ijedodo area of Iba LCDA was indicted as source of supply of this toxic Ponmo and has subsequently been put under surveillance." 
Meanwhile, Ponmo seems to be the only affordable substitute for fish and meat in Nigeria, a development that has made several Nigerians patronize the cow-skin sellers as they claim that the cow-skin is affordable compared to it counterparts (meat and fish).
Naija News understands that these ponmo being sold by traders go through a lot to be processed. Some claim that the cow-kin is been proceed with substances that might be harmful to men while some are of the opinion that the waters used in processing the cow-skin is no hygienic to man.