Nigerians Praise #EndSARS Convener, Create 'Sega Tron' Movement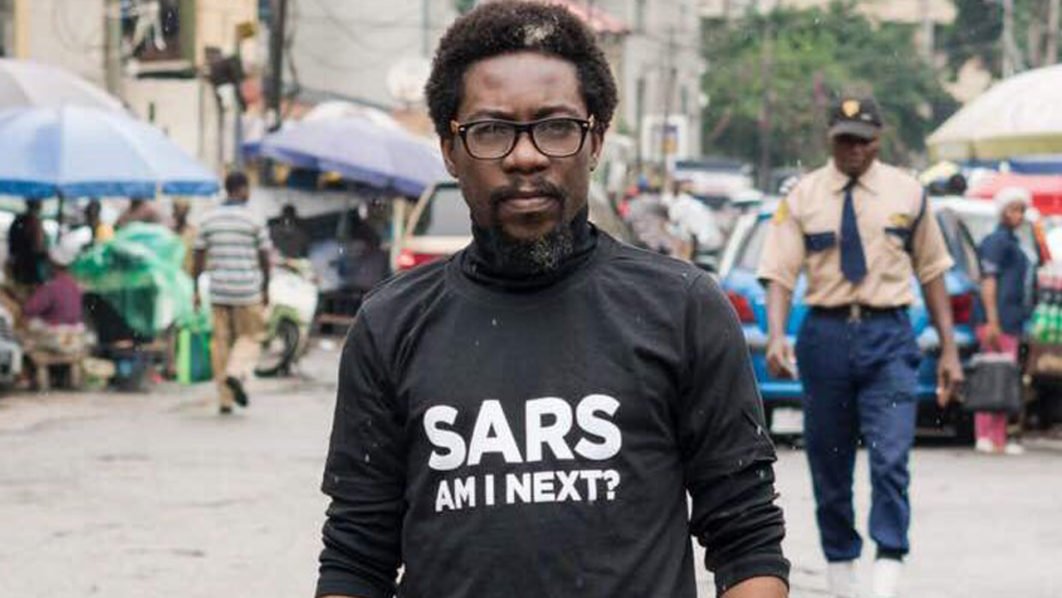 'Sega Tron' Movement Created… As #SegaTron Tops Nigeria Twitter Trend.
Nigerians have taken to the micro-blogging site, Twitter, to heap praises on the convener of #EndSARS campaign, Segun Awosanya, creating a new movement tagged "Sega Tron" in the process.
Naija News reports that #EndSARS campaign is a coalition of Non-Governmental Organizations (NGO), involved in the current citizens' push for the reform of the Nigeria Police Force, NPF, more particularly the agitation for the scrapping of the Special Anti-robbery Squad, SARS.
This online news platform understands that since the #EndSARS campaign was initiated, Awosanya popularly known as Segalink has been identified by some Nigerians as the "saviour" of the youths especially in the hands of "trigger happy" security officials.
Earlier this month, Segalink vowed that Kolade Johnson,  a football fan, who was shot dead by policemen from the Anti-Cultism Unit (SARS) of Lagos State Command, "will not die in vain".
Few days after the incident the officers who shot the football fan were aprehended and paraded by the police.
Ever since Johnson's death, Segalink and his team including Abdul Mahmud (#EndSARS Lead Attorney), Olúyẹmí Fásípè (Ondo State Ambassador, Social Intervention Advocacy Foundation (SIAF)) amongst others, have intervened in series of clashes between officers of the Nigeria Police Force (NPF) and Nigerians.
Apparently pleased with his efforts and works so fars in the countrty, Nigerians on Saturday, took to Twitter to praise Sega, creating a new movement known as "Sega Tron" in the process.
Naija News captured some of their reactions below…
@segalink Is more than a man, it's now a movement
A movement against oppression and police brutality, a movement to freedom
I Stan a king… I'm a proud #SegaTron https://t.co/dVMmB1bpNz

— STARRY🍥 (@starrywhyte__) April 27, 2019
Hello, fellow #SegaTron.
My name is Faustyno Wilson. Considering the positive impact of @segalink to humanity, & by virtue of my Fundamental Rights enshrined in section 40 of the 1999 constitution,I hereby pledge my membership/association with#SegaTrons. God bless Nigeria.

— Faustyno Wilson ⚙ (@Faustynowilson) April 27, 2019
https://twitter.com/classic_nedu/status/1122158384361418752
https://twitter.com/The_Anagkazo/status/1122215409275613184
Dynamic @segalink who I'm I not to post this #Segatron. ❤️❤️❤️ pic.twitter.com/VNyQm8nh1U

— #OBIdient (@Olarneeba) April 27, 2019
Imagine for a moment that a sensible government is sworn in, and that government appoints @segalink to lead Nigeria Police reforms.

Close your eyes and imagine where the police will be with respect to professionalism in just one year.#SegaTron

— Rita Peter Obi (@LordRey6) April 27, 2019
I just heard there's a name for @segalink 's followers and I'm so here for it.😅 #segatron #SEGATRON I Stan!🤚🏽

— Chy 💕 (@queenex_bb) April 27, 2019
I just heard there's a name for @segalink 's followers and I'm so here for it.😅 #segatron #SEGATRON I Stan!🤚🏽

— Chy 💕 (@queenex_bb) April 27, 2019
To @segalink The defender of the #Nigerian citizens against unlawful treatment and oppression, I pledge my support. I stand with #SegaTron

— harry Raymond (@harryray82) April 27, 2019
This @segalink Voltron go dey pepper dem ooo.😂
Voltron a 1984 animated series was the defender of the universe & today #SegaTron is the defender of Police harassed & impugned youths of today.
So wake up and smell the coffee.😂 https://t.co/jbj9Kc4YTW

— Victor ETIM (@victoroetim) April 27, 2019
https://twitter.com/AkinbodeTa/status/1122198470666924032
https://twitter.com/sploofeek/status/1122243905456615424
I'm officially a fan of #SegaTron. United we stand against tyranny. @segalink

— SB (@bobbyspage) April 27, 2019
For the love of @segalink and his good works. #SegaTron @segatronhq pic.twitter.com/nhFMgAgD5o

— Jamal (@JajaPhD) April 27, 2019
I don't normally jump on trends, buh hell, imma dive into this one. 🤠🤠

A proud #SegaTron.@segalink pic.twitter.com/QGUKvdk71E

— Orgrim WarHammer (@Hector_ConCarne) April 27, 2019
Unapologetically a #SegaTron pic.twitter.com/7VN0M9IgnJ

— Olamilekan (@callmemagnus_) April 27, 2019
https://twitter.com/realoladele/status/1122195251119128576
If you have a friend or someone like a @segalink that you can call for help anytime you find yourself in trouble, without fear of been turned down..

Then that is the most wonderful treasure you can ever have!#SegaTron

— Elon (@ogbode_) April 27, 2019
Hello, fellow #SegaTron.
My name is Sifon Victor Sugar. Considering the positive impact of @segalink to humanity, & by virtue of my Fundamental Rights enshrined in section 40 of the 1999 constitution,I hereby pledge my membership/association with#SegaTrons. God bless Nigeria. pic.twitter.com/6OLskkdkVE

— Sugar Sifon (@SifonVSugar) April 27, 2019
https://twitter.com/louis_endr/status/1122153181138628615
If Nigerian film makers were a serious set of people, the movie #SegaTron would be come through with the Segalink xter as a Superhero..

Mad concept jare..#SegaTrons pic.twitter.com/EPawWBxAPJ

— CPA d'Great (@cpadgreat) April 27, 2019
https://twitter.com/Rapture0077/status/1122118583784542208
If somehow uve been saved by @segalink pls come under this tweet lezz do meeting!! #SegaTron

— Mstwntd brownie (@iCraze6) April 27, 2019