Nigerians React As Buhari's Minister, Chris Ngige Says Doctors Are Free To Leave Nigeria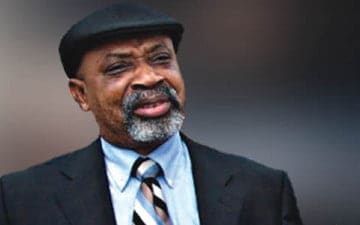 Nigerians Attack Ngige On Twitter
Nigerians have taken to the microblogging site, Twitter in reaction to a statement by the Minister of Labour and Employment, Chris Ngige saying medical doctors are free to leave Nigeria, as the country has them in surplus.
As previously reported by Naija News, Ngige made the statement when he appeared as a guest on Channels TV Sunrise Daily.
See how some Nigerians are reacting to the minister's statement:
Dr Chris Ngige don lose touch wit medical practice – Nigeria Medical Association https://t.co/QGZgefvIUL

— Joshua Ndace (@yebojoshua) April 24, 2019
Reno Omokri, said: "What type of arrogance is this? We have enough doctors? Is that why your boss, President @Mbuhari, spent 1 year and 39 days abroad, including over 6 months in a UK clinic? This government is a punishment on the Nigerian people #FreeLeahSharibu #RenosDarts."
@officialabbabe1, "Our doctors opt to practice abroad not because of surplus but lack of facilities, medical equipments and adequate funding of the health sector. Chris Ngige can confidently say he's not worried because clearly he lack the plight of the common man in health delivery service. "
@oluwaseunbams, "Careless and unreasonable statement! While other countries are keeping their best Brains, a minister is happy Nigeria's best Brains are being exported just bcuz he can afford to travel abroad for Medical treatment. Shame on Dr Chris Ngige!"
@ody_johnson, "Seriously I can't really blame ogah Chris Ngige, his boss who is the number one man of this country is a medical tourist who doesn't believe in medical practitioners based in Nigeria..
So you see my friend Ngigie is just a branch of the tree, Buhari is the root."
@Thecardinal911, "In a country with less than 80k doctors for a population of over 170million people, that is 2125 people to one doctor and a minister says he has surplus. Wow! Just wow! The WHO prescribes 1 doctor to 1000 people and we're over 2x that value but our leaders think it's just fine."
@Fayotomotyfe "Ha! But who did we offend in this country though? We have enough doctors but their president spent a good part of his term outside Nigeria receiving medical treatment. I don tire. God save us really."
@Babalolaadekun1 "Are these the best we have to lead us? To think of it, it took Pa Buhari months to scout for this fellow?
@MrOdanz, "There are about 70,000 registered Doctors in Nigeria. More than 35,000 of them are not practicing in Nigeria. They have left the country. This is from the minister of health himself."
We have an emergency situation in our hands and the utterances of Chris Ngige is an embarrassment
@Ummita71 "Doctors are free to leave Nigeria b/c the likes of Ngige have stolen more than enough to fund their medical tourism when the need arises. Until this shenanigan of political officers travelling out for treatment is stopped, we will keep hearing arrogant and stupid talks like this."
@iamperfkt "This is a clear case of where common sense isn't common .it isn't about doctors leaving Nigeria but our best hands. Developed countries keep theirs, we lose ours. And the irony is that you people get treated abroad by our best hands while the poor suffer here."
@Kingso_Lala "Please Nigerian doctors don't listen to him. We are the ones that will suffer it. You know they don't even use our hospitals, that's what motivates them to make such comments. Please stay for us!
@LordkinGideon "That's how to identify empty drums that are not fit for any dignify political post in Nigeria. Believe me if political office holder in U.S make such a statement, he will resign the next day as means of apologizing. Nigeria Ntooo! Dis is wat Buhari has done to our country."
@Hon_Bakare "Some people don't deserve to be in government!
@Ologboijakadi "This is so disheartening!
And coming from a "doctor", it speaks volumes of the level of ineptitude and primitive defence mechanism been exhibited by some ministers in this government! Statements like this are heard from people on tramadol."