Nigerians React To Baba Suwe's Death Rumour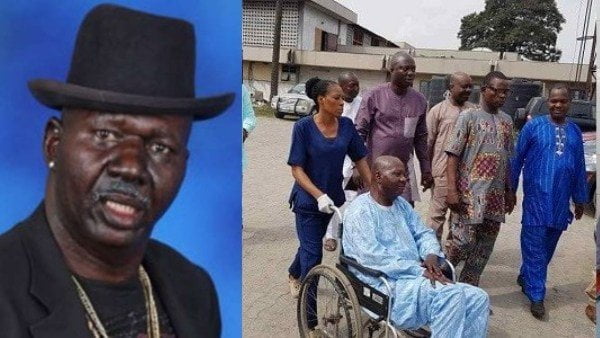 A storm of reactions by Nigerians has greeted the rumour that ailing comic actor, Babatunde Omidina, popularly known as Baba Suwe, has passed away.
The ailing comic actor arrived at the United States of America (USA), where he would be undergoing treatment.
Naija News understands that Baba Suwe's trip to the US comes after funds were raised on his behalf to treat him after he was said to have been down with chronic diabetes.
This online news platform had reported earlier that a friend to the actor and supposed spokesman, Yomi Fabiyi had announced that Baba Suwe travelled abroad for medical treatment on Saturday, April 20.
Fabiyi had also disclosed that the actor was accompanied by his son, Sola Omidina.
However, since the comic actor embarked on the trip, rumours have emerged in the country that he has passed away in the US but the actor has appeared on a new video where he gave an update on his journey.
In the video sighted by Naija News, Baba Suwe thanked everyone that came to his aid when the news of his ill health broke.
Similarly, Bolaji Amusan, popularly known as 'Mr Latin affirmed that the comic actor is alive and undergoing treatment.
Naija News reports that Mr Latin, who is the president of the Theater Arts and Motion Picture Producers Association of Nigeria (TAMPAN), made this known in a short video clip on Tuesday afternoon.
Mr Latin noted in the video seen by Naija News that Baba Suwe is currently undergoing treatment in the United States of America.
His words: "Good afternoon everybody, the purported rumour about Baba Suwe's death is fake.
"It's fake news, Baba Suwe is alive. He is presently in America undergoing treatment.
"I thank you all for your support and concern.
"I want to tell you authoritatively that is alive, he is hale and healthy, he is alive, nothing happened to him. Thank you and God bless you," he opined.
Moments after the news of Baba Suwe's purported death went viral, Nigerians took to the micro-blogging site, Twitter.
Naija News captured some of the reactions below…
Baba Suwe is ALIVE, responding very well to treatment in the United States…

Thank you.

— Ayekooto (@DeeOneAyekooto) April 23, 2019
I heard Babasuwe is dead, how true is that? pic.twitter.com/GHGhKJ0PZ9

— BIGMO (@Bigmo______) April 23, 2019
Pls what's happening to Baba Suwe ooo???

— IDcabasa (@Real_Idcabasa) April 23, 2019
Is Baba Suwe Really Dead? https://t.co/rHyMLtP532 pic.twitter.com/BMgtzX0JZ7

— Lukmon Akintola (@LAkintola) April 23, 2019
https://twitter.com/JumiLagos/status/1120704013081640960
RT if Baba Suwe made your days especially as a kid 😂 pic.twitter.com/3HRTMsw056

— Osas of Edo ❁ (@Chief_Zaddy) April 23, 2019