How Obasanjo Help Create Boko Haram – Soyinka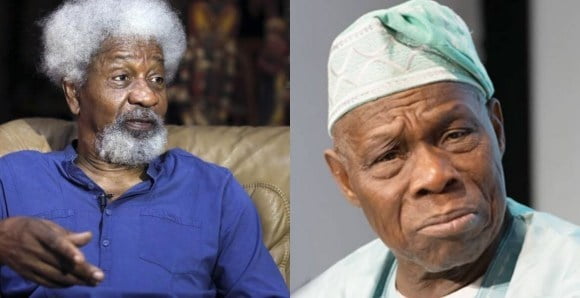 Nobel Laureate, Prof. Wole Soyinka has accused former President, Olusegun Obasanjo of contributing to the creation of the dreaded Boko Haram sect.
Featuring on BBC's Hardtalk anchored by Zeinab Badawi, Soyinka explained that the former president failed to stop a Northern governor from creating what he termed "theocratic state", hence he contributed to the emergence of the terror group.
He also pointed out areas President Muhammadu Buhari failed to include his "slow response" in dealing with the terror of marauding Fulani herdsmen across Nigeria.
Soyinka maintained that Buhari was repeating the mistakes of his predecessor, Goodluck Jonathan, who failed to deal with the Boko Haram menace.
He said; "Obasanjo contributed to the emergence of Boko Haram by not preventing the first governor in one of the northern states from establishing a "theocratic state".
The outspoken literary icon said the president failed to act because he was "compromised," by his ambitions to continue in office beyond the second term limit.