Budget Padding: Nigerians Reacts As Saraki's Replies Tinubu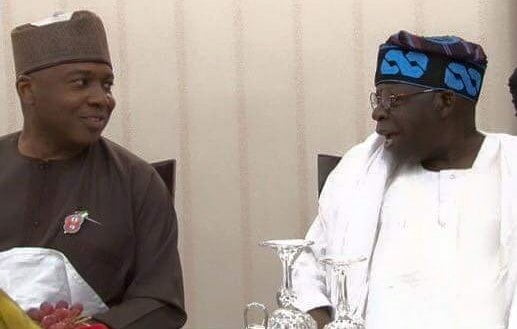 The President of the Senate, Dr Bukola Saraki has replied the accusations levelled against him by the National Leader of the All Progressives Congress, Asiwaju Bola Tinubu.
In his response, Dr. Saraki urged Asiwaju Tinubu to tread the path of truth and dwell on facts.
Saraki's response was contained in a statement signed by Yusuph Olaniyonu, his special adviser on media and publicity and made available to Naija News on Monday.
Saraki challenged Tinubu to substantiate his claim by making reference to where the National Assembly "sought to pad with pet projects". He described the allegation as careless, irresponsible and callous while demanding that Tinubu should withdraw it.
Meanwhile, Naija News can authoritatively report that the Senate president's reply to the accusations levelled against him by the National Leader of the All Progressives Congress, Asiwaju Bola Tinubu has also generated so many reactions on Twitter
Here are some of the reactions:
That's the mistake you people make!! Uprooting a structure that will be easily replanted and grown… My brother when a man is great …Na God oooo.. Whenever Saraki sneezes Tinubu catche fever instantly.

— Danilo (@esi_dan) April 22, 2019
Saraki, Dogara Hijacked Budget This Last Four Years – Tinubu#ME: They also hijacked Buhari's brain & put it inside Bullion Vans

— Lere Olayinka – Aresa 1 (@OlayinkaLere) April 22, 2019
I'm very sorry if this infuriates you.
You're so dumb.

Tinubu is an accountant.

Have u ever tried typing bola tinubu on Google and it brings or shows u Lagos state? That alone tells u the amount of his notability in Lagos and Nigeria as a whole…

— #BOLATITO… (@ToheebAdewale17) April 22, 2019
Is Tinubu the owner of Nigeria?.

Pls. Allow them to vote for who so ever they want as there Speaker & Senate President. https://t.co/60039ib4z3

— L. Umar™ (@Sodium011) April 23, 2019
Tinubu is greater than saraki in all Ramifications.

— shamsudeen Abdulkareem (@shamsudeenAY) April 23, 2019
Source: Naija News