Biafra: Nnamdi Kanu Attacks 'Ignorant' Keyamo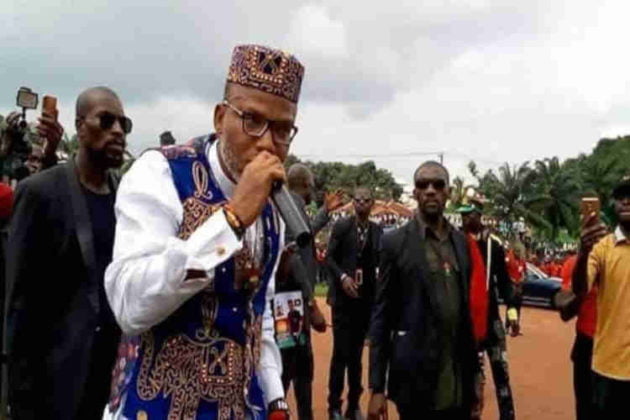 The leader of the Indigenous People of Biafra (IPOB), Nnamdi Kanu, has slammed Festus Keyamo for saying that WAEC certificate is not a prerequisite to becoming president in Nigeria.
Kanu, a pro-Biafra activist, delivered a broadcast on Saturday monitored by Naija News, which focused on the qualifications required to run for the post of the President in Nigeria in reaction to comments made Keyamo, that it is not necessarily compulsory to possess a WAEC certificate to become President of Nigeria.
Reacting to Keyamo's claim, Kanu said, "The ignorant lawyer went on to say you don't need WAEC certificate to become a president.
"This clearly unlearnable and quack senior advocate of Nigeria will end up as a judge in Nigeria," he stated.
Speaking further, Kanu said: "I am stating tonight, write it down that Nnamdi Kanu said that the dead Buhari was not qualified to run for office.
"I want to prove tonight that the dead Buhari is not a Nigerian by birth and should not have contested the election in 2015.
"The fact that you were born in Katsina is not enough to be a Nigerian. Your father and grandfather must be a Nigerian for him to contest the election.
"Buhari's parents were not born in Nigeria, therefore, Buhari, the late one should not have contested the election. Even the Buhari that contested and won the election against Jonathan in 2015 should not have contested the election.
"The dead Buhari was born in Niger Republic so if the dead Buhari was not qualified who is Jubril from Sudan to be qualified?" He asked.