Tell Buhari The Truth, Nigerians Are Hungry, Gani Adams Tells Presidency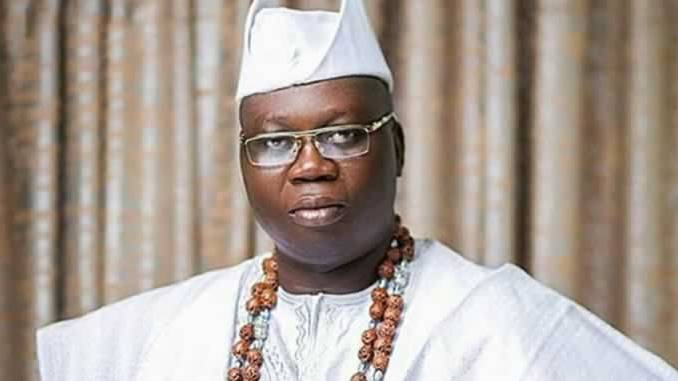 The Aare Ona Kakanfo of Yoruba land, Mr.Gani Adam has berated the achievement of president Muhammadu Buhari led administration.
Naija News learnt that Gani spoke at the 2nd annual lecture of Freedom Online, which was held in Ikeja, Lagos on Thursday, told Femi Adesina to tell President Buhari that Nigerians are hungry.
The event had Ekiti State Governor, Dr Kayode Fayemi, as guest speaker, Adesina who is Special Adviser to President Muhammadu Buhari on Media and Publicity and Adams were guests of honour while Onigbinde was the keynote speaker.
The same people that are suffering and complaining will still come and attack n insult the person of saying what all of us are going through.. Please is what Gani Adams said not happening in Nigeria? Let's stop all these, let's face it..

— HarretTochi (@TochiHarret) April 19, 2019
However speaking at the event, Adesina who spoke on the achievements of the Buhari's administration since 2015, claimed that only those who chose to be willfully blind would not acknowledge the government's achievements.
According to him, Nigeria's agricultural export grew by 180.7 per cent; while raw materials export in the same year rose by 150.2 per cent. He also claimed that rice importation had reduced by 90 per cent, saving the country billions of dollars on a daily basis.
Naija News learnt that  Gani Adams in his reaction to the present administration achievement said it was beautiful but it meant little to the man on the street.
He said, "You made a very good analysis, but by the time we check it, I know you are a very honest person and you are telling us the truth, but with this analysis, I think the grass-roots people should feel the government; they should feel the impact of government by all means."I am a regular traveller; I've travelled to about 46 countries and I know what is happening in the developed world and when you see most of their economic analysts, they won't tell you what they are doing theoretically but you will see what is happening."
Gani Adams to Femi Adesina: Tell Buhari Nigerians are hungry — Punch

Me:

The only "Nigerians" hungry are those used to free meals. Learn to earn your meals.

— Maiwada Dammallam (@Maiwada_) April 19, 2019
Gani Adams further told Femi Adesina to go back to Abuja and tell the President that the people were hungry. However, Prof Akin Onigbinde described the statistics on Buhari's achievements as "the reality that we cannot see." Onigbinde said;
"I welcome my friend, Adesina, telling us the reality we cannot see; we are not wearing glasses, these are things I encounter on a daily basis. I have heard about the Metro Rice in Ogun State, I saw it only on television; it is not in Daleko Market and the rice is also not in Kuto."I live in Bodija, I can't see this rice. But Femi is my brother, he has a duty to direct our gaze to what we cannot see and we begin to see things in our imagination."
Download Naija News App. Advertise with us. Send us enquiries and press releases.