Zamfara State: Emir Reveals Name Of Civilians Killed During NAF Air Strike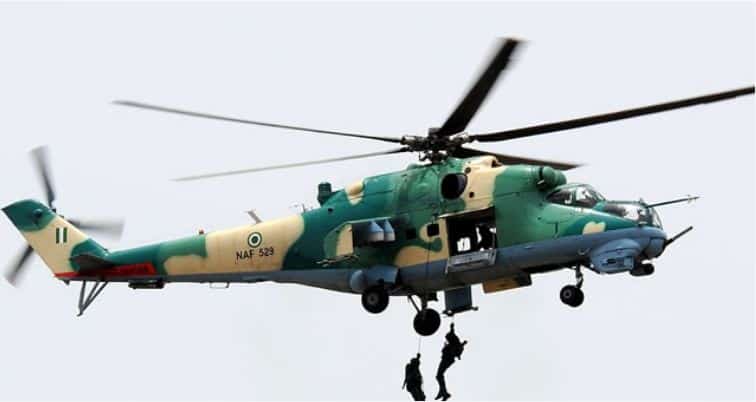 The Zamfara State Council of Chiefs yesterday identified and named eleven innocent civilians who were allegedly killed by the Nigeria Air Force fighter jet and a helicopter gunship which launched airstrikes on a rural community.
The casualties' names mentioned as reported by Daily Trust include Mai Daji Barau, Na Dumburum, Suwaiba Alka, Yar Guru Na Dumburum, Maryam Shafiu, Dahe Malan Sule, Buhari Dan Kurma, Zaliha na Dumburum, Aisha Akilu, Alamin Alka and Fati 'Yar Gum.
According to the chiefs, another eleven innocent people sustained injuries from shrapnel when a NAF fighter jet and helicopter gunship struck Dumburum community of Zurmi Local Government Area of the state. The attack took place on April 9, this year.
Those who sustained injuries are Haruna Kusu, Muhammad M Sani, AbdulRazak Abubakar, Yakubu Yunusa, Dan Diyya, Sa'a Dayyabu, Yar'wargi Mamman, Gwamna na Dumburum, Rashida Alka, Maryam Akilu and Sadiq Sukuranu.
They also named 20 people whose houses were destroyed in the air raids.
The traditional rulers had accused the military authorities of killing innocent villagers in their recent airstrikes and vowed to produce name evidence, but the NAF chiefs denied killing civilians in the strike.
At a briefing in Gusau yesterday, the State Council of Chiefs, represented by the Sarkin Fulani [Emir of] Bungudu Alhaji Hassan Attahiru reiterated its earlier stance that NAF attacks hit innocent civilians instead of bandit camps.
'We want independent probe'
The emirs debunked allegations in some quarters that they were jittery due to the success being recorded by the military as a result of the ongoing onslaught against the bandits. They called for an independent investigation of their claims.
Their spokesman said, "We had a meeting with the Executive Governor and we provided secret information on the suspected armed bandits, kidnappers and their informants and even those doing business with them.
"We suggested that civilian joint task force members should be recruited. How comes that somebody would just come out and say we have not been helping matters?"
He added,"The crimes transformed from local to more organised ones. The police were earlier deployed and later the military too was deployed. Why is there no respite despite the presence of the military? The soldiers deployed sometimes pay us a visit in the course of their operations.
"It is wrong for the military command to, for instance, deploy only 30 soldiers and ask them to engage hundreds of armed criminals in a forest. That is why sometimes they get killed by these criminals. If NAF do their reconnaissance and dislodge the criminals from their camps, the ground troops should occupy the identified bases of the armed criminals.
"Even the attack on Tsanu village by the military, it was innocent civilians that were killed. We can provide documented evidence, but we don't want to join issues with security operatives."
According to the Emirs said dozens of people were displaced by the attacks and they expressed readiness to cooperate with security operatives deployed to the state.
Meanwhile, Naija News reports that yesterday NAF reported how it killed two bandits and injured several others during its anti-bandits operations.
Download NAIJA NEWS app: