Nigerian Lady Makes Strong Allegation Against Governor Ambode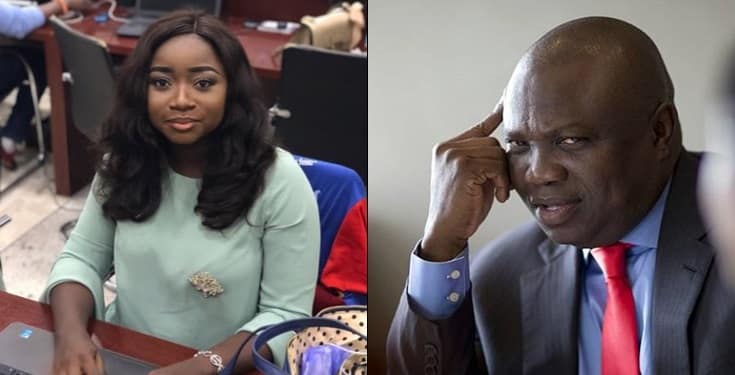 A middle-aged Nigerian lady identified simply as Gbemisola has made some strong allegations against the governor of Lagos state, Akinwunmi Ambode.
Gbemisola in her allegation threatened the state governor for allegedly detaining her father and his colleagues who had visited the Governor earlier.
Naija News understands that Gbemisola vowed to fight the state governor with the last drop of her blood.
She said that her father and his colleagues who are members of the Lagos State Polytechnic SSANIP had honoured the invitation of the state Governor to resolve a conflict but they were allegedly detained in the process.
While citing reasons for their detention, Gbemisola said that her father and his colleagues were detained because they protested the reduction of their salaries by 30 percent.
"They were detained simply because they protested an oppressive regime that saw some of their salaries reduced by 30%". One of the women was detained with her 1-year-old child and the child slept at State Investigation Bureau, SIB, Ikeja," She said.
Gbemisola had twitted on Tuesday as thus; "@LasgoOfficial @AkinwunmiAmbode invited my dad and other members of Lagos State Polytechnic SSANIP to resolve an existing CONTISS conflict. They've been held at State Investigation Bureau since yesterday. Ambode I will fight you every last drop of blood I have."
Below are Gbemisola's Tuesday's tweets in series.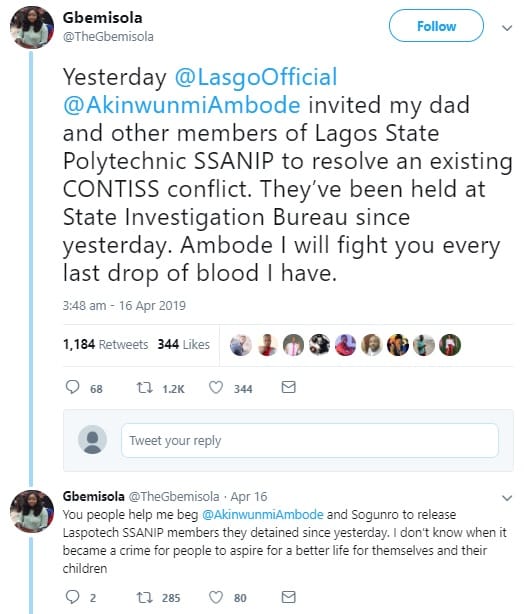 Update: Bail was granted but they didn't meet their bail conditions early so they've been remanded in prison custody.

— Gbemisola Ekuwa Alayingi (@TheGbemisola) April 17, 2019