Nigerian And US Naval Forces Arrest 19 Over Oil Theft, Illegal Weapons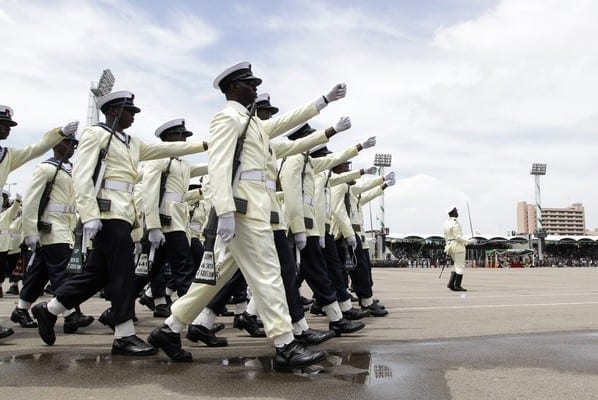 The Nigerian Navy (NN) has arrested 19 suspects and two vessels within the Western waters during a joint operation codenamed "Junction Rain", which it undertook with the United States (U.S.) Navy.
The NN made this disclosure while addressing reporters at the return from the high seas yesterday, the Officer in Tactical Command (OTC) Commodore Dickson Olisemenogor
The vessels were seized for illegal possession of firearms and suspected crude oil theft by the Nigerian Navy Ship (NNS) CENTENARY and a Nigerian Maritime Administration and Safety Agency (NIMASA) boat which were among the nine platforms and two maritime patrol helicopters deployed for the seven-day operation.
The Nation had reported that Angelopolous Spyridon, 54, (Greek); Kappis Christos, 57, (Greek); Petropoulos Stylianos, 34, (Greek); Zanski Michael-Anderson, 50 (American); were among the foreigners arrested on the boat – SEA ANGELS 3 – where the special forces recovered four Bernelli MI-1 rifles, over 1,000 ammunition, and other military gadgets.
Meanwhile, a discharge document was also recovered aboard the boat having the name, signature, and details of Michael-Anderson but with another picture.
The NN noted that nine suspects comprising three Greece nationals, an American and five blacks were arrested aboard SEA ANGELS 3.
The OTC said the other 10 suspects were arrested on the oil barge that claimed to have come from Ghana but was roaming on the seas in a questionable way.
According to Commodore Olisemenogor, the vessels, exhibits, and suspects, would be handed over to the appropriate agencies for further investigation, prosecution and possible conviction, warning criminals to steer clear of Nigerian waters.
In the course of the operation, he said the navy interrogated over 100 vessels and boarded 40, noting that most criminally-minded ships and boats fled the nation's western waters to other far countries like South Africa.
He said: "There were nine suspects on the first boat arrested. The boat was looking like a naval boat and when we made initial contact, the captain made us believe that he was in our waters for routine patrol waiting for a merchant's vessel.
"He was asked if he was carrying any weapon or other items on board and he denied. We decided to board the vessel for confirmation and discovered that there were five Nigerians, three Greeks and an American. It is not right for the vessel to be having naval colour.
"They did not tell us where they were coming from and that was why we arrested them. They earlier switched off some of the equipment to make it difficult for you to detect them but unfortunately we have the equipment on board to detect whoever is at sea. No criminal can hide again in our waters.
"We saw some weapons there. About four MI-1 rifles, over a thousand rounds of ammunition and some other military kits. They will be handed over to the appropriate agencies for action. It is a good thing that other MDAs participated in this operation with us and we worked as a team for the good of Nigeria.
"What we saw at sea is encouraging. We had other merchant ships calling and congratulating us for keeping the waters safe for their operations.
"That goes to give credence to this operation. In total we were able to interrogate about 100 ships at sea, we boarded about 40 of them which we suspected may have not given us the accurate information and in the process, two were actually arrested.
"I can say it was a huge success because apart from keeping our sea lines open for normal commercial shipping to take place, we also used the opportunity to further train our men onboard, especially in seamanship area, communication, even our engineers had the opportunity of understanding our engines better and know how to solve certain problems that could jeopardize our operation at sea.
"The other areas I know that we have actually done something were in collaboration and interoperability. Now, we can work as a team with all our MDAs. They understand us and so do we. Area of communication and information sharing came to play because most of this information we got that led us into interrogating some vessels and boarding others came from our sister agencies through our Maritime Operation Center (MOCs) which shows synergy is already established and I just hope that we would sustain it.
"In my assessment, the operation is worth it and should be sustained. I can assure you that through the effort and support of the Chief of the Naval Staff (CNS) Vice Admiral Ibok-Ete Ibas, the navy is very ready.
"You saw the number of ships available for the period of time we went out. We want Nigerians to know that their navy is working and time is up for those criminals at sea. Some of the vessels we were monitoring fled to South Africa and some were even in Gabon.
"The fact that we have denied them the use of the sea for days goes to show that we can continue and it is no longer business as usual for them. We are using this opportunity to warn all criminals at sea that this operation has not ended, it is still ongoing. Anyone that feels he can come and disturb our waters let him think twice because it is not going to be easy for him."
Meanwhile, Daily post reports that NN yesterday declared some men wanted for alleged complicity in the theft of petroleum products in Nigeria's maritime environment.