Atiku From Cameroon: What Nigeria Law Says – #EndSARS Lead Attorney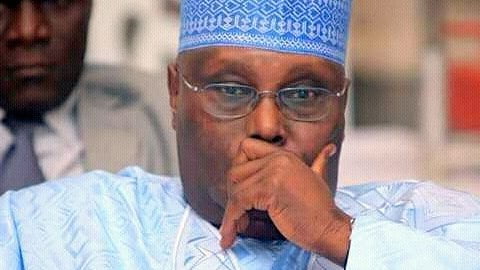 The Lead Attorney of #ENDSARS campaign, Barrister Abdul Mahmud, says Atiku Abubakar is a Nigerian by birth in reaction to a claim by the All Progressives Congress (APC), Nigeria's ruling party, that he is from Cameroon.
Naija News recalls that APC  filed a motion at the Presidential Election Petition Tribunal in Abuja, Nigeria's capital, April 12.
In the petition filed by APC's lead counsel, Lateef Fagbemi, the party faulted the candidacy of Abubakar, who was the Peoples Democratic Party (PDP) candidate in the election, claiming that the former Vice President is a Cameroonian and not a Nigerian citizen.
APC, hence maintained that the Presidential candidate petition against President Muhammadu Buhari, its own candidate, should be dismissed for lacking in merit.
Reacting to the claim in a series of tweets on Monday evening, Mahmud wrote: "I tweeted about it early February. Don't let the anti-Atiku vuvuzelas deceive you, Atiku is a Nigerian by birth. When they insist on Ss.25 & 131 CFRN 1999, tell them that citizenship of Nigerians born before 30 September 1960 was first determined by CFRN 1960 and subsequently by S.10 of the CFRN1963-Special Provisions on Northern Cameroons- that is, citizenship of Nigeria by birth for the people of northern Cameroons.
"Section 10 CFRN 1963 while conferring citizens rights and privileges on the people of northern Cameroons presumes that they were born in communities indigenous to Nigeria before 30 September 1960.
"In construing whether or not the people of northern Cameroons were conferred citizenship of Nigeria by birth in 1963, the court will have to look at section 10 CFRN 1963- not CFRN 1999- and be guided by the presumption of constitutionality.
"Here, the courts don't disturb the enactments of the parliament where the intendments and or the wordings of legislative instruments or of the constitution are unambiguous and clear.
"The questions are: was it the intention of the national parliament to donate citizenship by birth ( under the CFRN 1963) to the people of northern Cameroons following the 1961 plebiscite?
"My answer is: YES. Section 10 of the Constitution 1963 is clear and unambiguous. Did the 1979 or 1999 CFRN annul the presumptive donation granted under section 10 of the Constitution 1963. My answer is: NO.
"Those who claim that Atiku and the people of northern Cameroons are not Nigerians by birth are talking tosh. Stick your middle finger at them!"
I tweeted about it early February. Don't let the anti-Atiku vuvuvelas deceive you, Atiku is a Nigerian by birth. When they insist on Ss.25 & 131 CFRN 1999, tell them that citizenship of Nigerians born before 30 September 1960 was first determined by CFRN 1960

— Great Oracle (@AbdulMahmud01) April 15, 2019
and subsequently by S.10 of the CFRN1963-Special Provisions on Northern Cameroons- that is, citizenship of Nigeria by birth for the people of northern Cameroons.

— Great Oracle (@AbdulMahmud01) April 15, 2019
Section 10 CFRN 1963 while conferring citizens rights and privileges on the people of northern Cameroons presumes that they were born in communities indigenous to Nigeria before 30 September 1960.

— Great Oracle (@AbdulMahmud01) April 15, 2019
In construing whether or not the people of northern Cameroons were conferred citizenship of Nigeria by birth in 1963, the court will have to look at section 10 CFRN 1963- not CFRN 1999- and be guided by the presumption of constitutionality

— Great Oracle (@AbdulMahmud01) April 15, 2019
Here, the courts don't disturb the enactments of the parliament where the intendments and or the wordings of legislative instruments or of the constitution are unambiguous and clear.

— Great Oracle (@AbdulMahmud01) April 15, 2019
The questions are: was it the intention of the national parliament to donate citizenship by birth ( under the CFRN 1963) to the people of northern Cameroons following the 1961 plebiscite?

— Great Oracle (@AbdulMahmud01) April 15, 2019
My answer is: YES.
Section 10 of the Constitution 1963 is clear and unambiguous.
Did the 1979 or 1999 CFRN annul the presumptive donation granted under section 10 of the Constitution 1963.
My answer is: NO

— Great Oracle (@AbdulMahmud01) April 15, 2019
Those who claim that Atiku and the people of northern Cameroons are not Nigerians by birth are talking tosh. Stick your middle finger at them!

— Great Oracle (@AbdulMahmud01) April 15, 2019
Download NAIJA NEWS app: