Benue Vigilante Group Arrests Suspected Killer Herdsman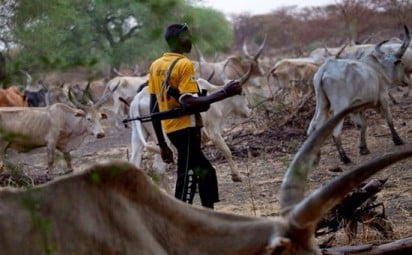 The Benue State Livestock Guards have arrested, Amandu Wakili, a Fulani herdsman suspected to be responsible for the recent attacks on some communities in the state.
Wakili, who was arrested in alongside other herdsmen, disclosed that they were working for one Alhaji Aliyu Tershaku.
The herdsman was arrested in one of the communities bordering the University of Agriculture Makurdi while openly grazing his cattle.
Speaking to newsmen on Thursday in Hausa, Wakili claimed that Tershaku asked herdsmen, including him to return to the state and continue with grazing of cattle in defiance of the Benue State Open Grazing Prohibition and Ranches Establishment Law.
He said they were instructed to move to Benue but be watchful to resist cattle rustling while also avoiding destruction of farms.
According to Wakili, two of his fellow herders who were with him ran away with their cattle while he was arrested and taken to Makurdi by operatives of the Livestock Guards.
He disclosed that they came to the state from Awe Local Government Area of Nasarawa State, adding that more of their members were billed to relocate to Benue on the instructions of their leaders.
Source: Naija News