Orji Kalu Speaks On Nominating His Brother And Cousin For President Buhari's Next Cabinet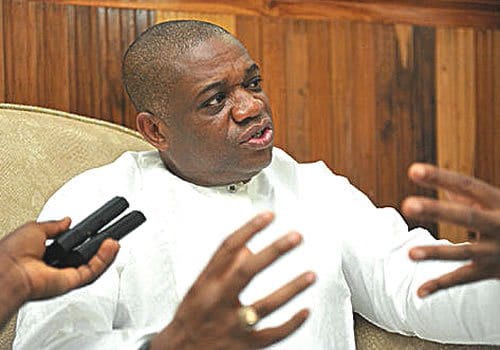 The Senator-elect for Abia North, Orji Uzor Kalu, has debunked rumours that he nominated his younger brother Mascot Kalu and cousin Dr. Madukwe Ukaegbu for ministerial appointments.
Naija News understands that the APC cheiftan made the clarification through a statement and urged the public to disregard the false news. It described it as the handwork of mischief makers and political jobbers who are envious of the APC's growing popularity in Abia State.
The statement reads: "We condemn the news that Dr. Orji Kalu has nominated his brother Mascot Kalu and cousin Madukwe Ukaegbu for ministerial appointment.
"The fake news is another attempt by political jobbers to score cheap political points. We advise the management of the online platform which started the spread to apologise within seven days otherwise face the wrath of the law."
The statement also urged members of the APC to be wary of paid agents of the opposition, saying Kalu will not lose sleep over the antics of failed politicians.
The party has dissociated itself from moves by President Muhammadu Buhari to re-appoint Mr Okechukwu Enelamah, current Minister of Industry, Trade and Investment, as a minister.
The party, which accused Enelamah of apathy towards its activities in the last three years, called on the National Chairman, Comrade Adams Oshiomhole, to ensure that Abia gets a minister who is committed to the party's interest and growth in the next federal cabinet.
The Publicity Secretary, Comrade Benedict Godson, who addressed reporters, said most of the problems faced by the party during the last election were due to Enelamah's non-commitment and lackadaisical approach to its issues.
He said: "We have a minister on paper but nobody feels his impact. Throughout the campaigns, he showed no interest. He should help build this party, but he has instead remained unconcerned and lackadaisical. He's practically not an APC member.
"Now he is being projected to return as a minister which should not be so. We disown him because he's a saboteur to our party here in Abia. His attitude is serving the interest of the opposition.
"We call for his immediate removal. The APC is too big with many qualified members for us to be appointing non-members. Enelamah is not a member of our party and should not be appointed as a minister again…."