Nigerian Navy Parades Eight Suspects, Seize 501 Drums Of Diesel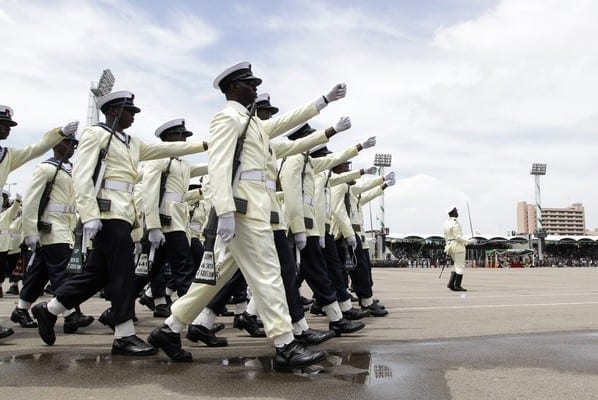 Nigerian Navy Hand Over Eight Suspects To EFCC
The Nigerian Navy in Akwa-Ibom State has arrested eight suspects who were transporting illegal Automotive Gas Oil (AGO), otherwise known ad Diesel.
It also said it seized 501 drums of the AGO from the suspects.
While parading the suspects yesterday, the Navy said, based on intelligence reports, in the early hours of April 5, 2019, they intercepted the suspects conveying the boat-load of AGO brought in from Oyorokoto in Rivers State along the Calabar channel leading to Oron river with three Yamaha outboard engines.
Speaking in Ibaka during the hand-over of the suspects, drums of AGO, wooden boat and outboard engines to the Economic and Financial Crimes Commission (EFCC), Acting Commanding Officer of Forward Operating Base (FOB), Captain Reginald Adoki, said from their findings, the products in the boat were suspected to be illegally refined AGO (diesel).
He said the activity of the suspects showed a clear case of economic sabotage which the navy is committed to rid the area of, adding that the handover to the EFCC is a sign of their confidence in the commission.
The items and the suspects were received by the Uyo Zonal Head of EFCC, Abdulkarim Chukkoh, who was represented by Mr Alex Ebbah.
Speaking to newsmen, one of the suspects, Victor Umana from Mbo Local Government Area, Akwa Ibom State, said his desire to gain a better source of income led him into taking up the job.