Gov. Bello Speaks On Dumping Kogi For Abuja Ahead Gov'ship Election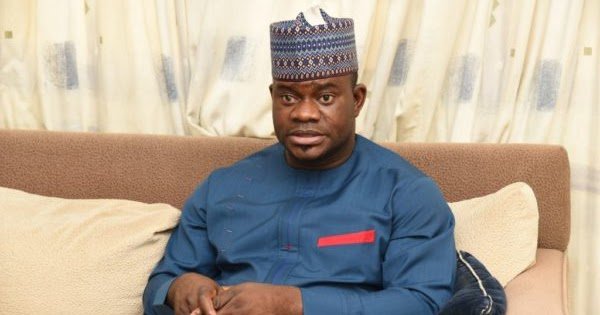 Governor Yahaya Bello of Kogi State has dismissed claims that he had left the state temporarily and relocated to Abuja ahead of the governorship election in the state.
Reports had emerged that Yahaya Bello had abandoned governance and temporarily relocated to Abuja where he is lobbying President Muhammadu Buhari, Aisha Buhari and other leaders of the All Progressives Congress (APC).
Independent reports that since the conclusion of the presidential election the governor is rarely seen in Kogi State.
The report also has it that while the National Chairman of the APC, Adams Oshiomhole was favourably disposed to direct primaries, the embattled governor was canvassing for indirect primaries where selected delegates will vote.
However, Chief Press Secretary of the Governor, Onogwu Mohammed, told Independent that the allegations were false.
He added, "That is a lie from the pit of hell concocted by the imagination of those who are only interested in spreading falsehood.
"Governor Yahaya Bello was billed to travel with Mr President to Jordan alongside with Governors Abiola Ajimobi of Oyo and Badaru of Jigawa State.
"The governor has been on ground in the state since last week and has not travelled to Abuja. He had to cancel that trip to Jordan with President Buhari because from the security reports he gathered, there was a plot to threaten the peace of the people of Omala Local Government Area.
"So, he cancelled that trip and has been on ground in Kogi State. He held meetings with the various security agencies in Kogi.
"Based on the meeting, the security apparatus in Kogi moved to Omala Local Government Area and they were there till yesterday morning until they repelled the attack.
"The governor is presently in the state, coming to office, attending to issues that border on the well-being of the people of Kogi State.
"To say the governor has relocated to Abuja because of second term is a lie and should not be taken seriously by well-meaning Nigerians.
"Yahaya Bello is not after second term in office. He is not desperate about getting himself a second term ticket by relocating to Abuja.
"He is assuring himself of a second term ticket by giving the people of Kogi State good governance."