Onnoghen Resignation: Why PDP, Saraki Should Cover Their Faces In Shame – BMO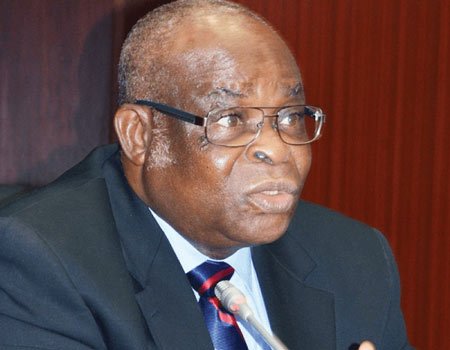 The Buhari Media Organisation (BMO) has mocked the Peoples Democratic Party (PDP) for its support for former chief justice of Nigeria, Walter Samuel Onnoghen has to be his resignation over corruption charges.
BMO, in a statement signed by its coordinator, Niyi Akinsiju and secretary, Cassidy Madueke, said the opposition party and its leaders should hide their face in shame for supporting corruption as shown in their activities during the court trial of the former CJN.
The group also said the eventual resignation of Onnoghen is a proof that President Muhammadu Buhari is on the right track for initially suspending him to face his trial at Code of Conduct Bureau, The Nation reports.
Naija news recalls that Onnoghen was suspended by the president his alleged failure to declare some of his assets as required by the law.
His resignation was preceded by his trial at Umar Danladi-led CCT, coupled with an allegation of corruption against him by the Economic Financial Crime Commission (EFCC).
Reacting in a statement on Monday, April 8, BMO said: "The party leaders even suspended their flagging presidential campaign at that time for 72 hours! Just to be seen to be fighting perceived injustice, but discerning Nigerians knew they were playing to the gallery.
"They were quick to shout political witch-hunt to the high heavens and that was in spite of the overwhelming evidence which they insisted on not interrogating because the CJN's suspension tallied with the wrong impression of a dictatorial government that PDP was keen on selling to the electorates in the run-up to the election.
"We were also not surprised that another key PDP leader, the usurper Senate President Bukola Saraki, attempted to drag the Senate into it until the All Progressives Congress (APC) caucus which had a clear majority shot it down.
"We won't also forget PDP governors in the south-south region in the hall of infamy, especially as they encouraged the man who was at the time the custodian of the nation's law not to appear before the Code of Conduct Tribunal (CCT)."
The pro-Buhari group, which berated PDP for glorifying corruption, also demanded an apology from those attacking the president for suspending the immediate CJN.
It said: "We at BMO have every reason to demand an apology on the President's behalf from everyone, including the latter-day rights activists who were actually paid hacks, and the real ones who failed in their duties to hold people in government accountable."