Nigerians React As Kadaria Labels Yari Most Useless Governor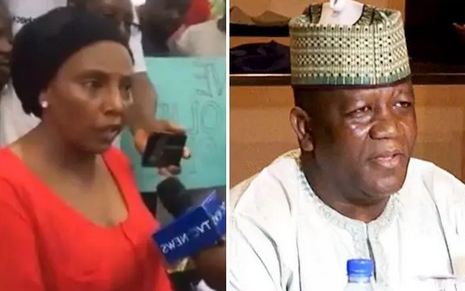 A storm of reactions by Nigerians has greeted a statement by a veteran broadcast journalist and writer, Kadaria Ahmed, that the governor of Zamfara State, northern Nigeria, Abdulaziz Yari is the most useless governor in the history of Nigeria.
Naija News had reported earlier that Ahmed made this comment while addressing journalists in Abuja, Nigeria's capital, during a protest against the ineffectiveness of both Zamfara State government and the Federal Government on the incessant killings in the state.
When asked what she thought of the efforts of the state government in addressing the issue, Ahmed said: "As far as I am concerned, that Governor is the most useless governor in the history of Nigeria.
"Quote me: he is the most useless governor in the history of Nigeria. This is a governor whose reaction to the killings in his state was to resign as the Chief Security Officer. He went on the record to say that he cannot be the Chief Security Officer. So, I don't know what he is still doing in office; he doesn't care.
"He only cares about the people of Zamfara when it comes to politics. The fact that they are getting killed does not concern him. He lives most of his time here in Abuja. How can you govern a state for eight years from Abuja? What sort of leadership is that? We are so happy he is on his way out.
"He is hopeless as a leader. He has not done well for our people. Under him, Zamfara has deteriorated."
Ahmed said she grew up in Zamfara State, stating that the state has lost the peace and prosperity she used to know.
The veteran journalist called on Nigeria's President Muhammadu Buhari to declare a state of emergency in the state.
"We are calling in President Muhammadu Buhari to show the people of Zamfara the same regards they have shown him. For two elections, they have come out in large numbers to vote for him. Can he also show that he cares about them?" Ahmed asked.
Moments after she made the statement, Nigerians took to the micro-blogging site, Twitter to react to the statement.
Naija News captured some of the reactions below…
The same people who were "fighting" to defend a shamelessly corrupt CJN in the name "rule of law" are the same ones lynching Kadaria. The common denominator is easy to see, they hate Buhari & manufacture outrage, lash at anything/anyone to justify it. It is so funny to see.

— Babanla (@biolakazeem) April 7, 2019
Is this not Kadaria that questioned Atiku on issues for the APC? Why did she no ask Buhari questions over the banditry during 'the candidates' on NTA? Madam, it was clear you worked for the APC during the chart, it good anyway to protest. Continue https://t.co/q7iKTmzLFZ

— Atikulated Maigogul (@Maigogul) April 7, 2019
Kadaria was right about Yari, but he cannot beat GANDUJE on the stupid list! The irresponsible governor is breeding/equipping thugs/gangsters in his own state openly and then picking a fight with the Police commissioner for arresting the same thugs. You tell me!

— DG (@Sir_KB) April 7, 2019
I hope not. Loool. But if they come for Kadaria they come for me.

— JJ. Omojuwa (@Omojuwa) April 7, 2019
Kadaria Ahmed is a coward and hypocrite. She knows Yari is not the commander in chief of the armed forces,but she deliberately picked on him to deflect the blame from Buhari.
Some people want appointment by all means. Just using others to achieve their dreams. #StopTheKillings

— EhiOseJerJesIdeMar (@AgboifohP) April 7, 2019
No be me talk am ooo…hahahaha.. did you see Kadaria Ahmed yesterday ranting up and down on channels TV against PMB… when she was anchoring the Presidential she was soft and laughing and smiling. Now she can see life clearer. The only platform PMB came on she messed it up…

— Kasarachi Kalepron Lekky (@kalepron) April 7, 2019
Kadaria in her protest pointed out the insecurity issues that has been going on for years in zamfara .. This is coming from a person who had the opportunity to ask these questions few months ago from the president!.. https://t.co/VOFWJHQjcm

— …. (@i_am_oludare1) April 7, 2019
Another school of thought here.

The reason Kadaria is being called out is she was practically the only person for more than 2years who had the opportunity to ask salient questions on the killings before the elections.

As the media didn't have access to Mr. President, https://t.co/MEiF07IM6k

— Jacob Attah (@Attah04) April 7, 2019
I said it after that Kadaria's interview with Atiku and Obi that these perpetual irresponsible idiots are going to replace Omojuwa with her in their endless idiocy for the next 4yrs.

If OPEC replaces oil with idiocy, these Atiku and PDP supporters will make Nig topple Saudi A

— SoulJah (@jeffphilips1) April 7, 2019
Kadaria Ahmed conveniently absolves Buhari of any blames, making Gov Yari, who's almost done with his second term, the scapegoat.

TOO CONVENIENT! ??? https://t.co/dTeA33fETs

— Shalom Ibironke (@Biyatife) April 7, 2019
I don't think they hate Kadaria. It's these stupid judgement that amazes people. How can you vote for an obvious killer and then protest killings. When others were protesting the killings, you call them names. Now you want their support.

— Akin (@supernova6) April 7, 2019
I still remember Kadaria's tweet about Wike and Ortom shaking after one of the incidents of killing in Benue.

— Poximus Prime (@tonypox) April 7, 2019
If Kadaria had a 10 minute interview where she was cursing Buhari all through, the same things would tweet "they have delayed this one's salary." I know these folks. You can't win with them. It's not about any issues, it is about the bile and hatred in them. https://t.co/iZXSywanwG

— JJ. Omojuwa (@Omojuwa) April 7, 2019
I'm seriously tired of their thought pattern! The kind of stance they take?
See them tryna drag Kadaria, cos she dared to protest the govt's lackadaisical attitude to the killings!

— story for the gods (@ashjay001) April 7, 2019
She has a Name, Her name is Kadaria Ahmed a renowned Journalist but you can't talk without Dragging Elrufai's name into your shit because he's your Nightmare, you'll be alright. https://t.co/y4fQipLIHM

— JABIR. (@jishaq1) April 7, 2019
Omojuwa was 2015, kadaria is 2019. This will go on till next election until they see another person to blame for their loss. Know this and have peace

— Tobi Babatunde (@ATOMTGOLD) April 7, 2019
Kadaria calling the Zamfara governor the "Most Useless Governor", conveniently refusing to mention that Buhari is Commander-in-Chief of the Armed Forces and this is happening under his nose. https://t.co/QDtUJjYDVX

— Callings (@CollinsUma) April 6, 2019
FLASH ~ Nigeria Female Broadcaster Calls Out Zamfara Governor As Most Useless In Country's History. Kadaria Ahmed Accused Governor Yari of not using all Native Doctors at his disposal to fight Bandits.

In other News, President Buhari had a Jacuzzi bath in Jordan earlier today. pic.twitter.com/YCEjqfQs4i

— Country People NG (@CountryPeopleNg) April 6, 2019
Kadaria is just been clever by half. Is Yari the commander in chief? When the Chibok girls got kidnapped why was Jonathan blamed? Nonsense talk.

— chijioke onyeogubalu (@Ekwulu) April 6, 2019
Yari is the most useless governor in the history of Nigeria.
–Kadaria

But Borno mess before 2015 was not Shetimma's issue, it was GEJ'S?

Dear Kadaria, I hope all is well? https://t.co/57A85mKS8A

— RankyLicious (@patoranky) April 7, 2019
Hanty Kadaria Ahmed, aka Kaduna Amanpour has been selective with the national crisis she lends her voice to. Southern Kaduna happened – she was mute cos her Sis is First Lady. She was mute on #OperationPythonDance & now shouting cos it's becoming a Northern Conflagration! ?

— Kingsley O. Kalu (@IAmKingsley007) April 7, 2019
Hope Kadaria and marchers can hear this and help verify!!! It takes more than tweeting to solve such a huge mess! God bless d gallant security personnel's putting there life at risk while we tweet away! God bless d marchers that put dis as a front burner also. God bless Nigeria!

— Ogunleye Akinola Koleola (@AkinolaKoleola) April 7, 2019
Is this not Kadaria?
Do these people have shame at all?
They did all in their power to ensure a smooth pass for a Jihadist and barely a month later they are crying?
O sé sé bere

— Didi (@Cckm26) April 6, 2019
Kadaria,you called our beloved governor useless,you're the most idiot,selective,undesirable journalist in the history of nigeria. pic.twitter.com/5QOSrpgqBH

— Amb Abdulrahman Yahaya (@cardinalabdul) April 7, 2019
Read More News. Download Naija News App. Send us enquiries and press releases.