Nigerians React To CJN Onnoghen's Resignation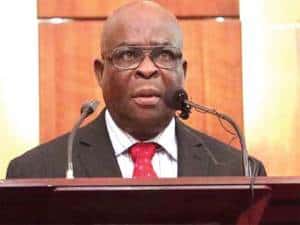 The suspended Chief Justice of Nigeria (CJN), Walter Onnoghen has resigned his position as CJN with immediate effect.
Onnoghen reportedly submitted his letter of resignation to President Muhammadu Buhari on Thursday evening, few hours after the National Judicial Council (NJC) recommended that he be compulsorily retired.
The former CJN's resignation has drawn mixed reactions from Nigerians, who took to micro-blogging site, Twitter, to express their opinions.
See Reactions Below: 
Walter Onnoghen @Twitter Nigeria lawyers failed him. I hope is resignation is not some soft landing to make him go home with the over 2.5 Billion worth entitlments.@MBuhari called this one RIGHT! https://t.co/MYf3WbiXQn

— Kayode Ogundamisi (@ogundamisi) April 5, 2019
BREAKING NEWS.
The suspended Chief Justice of Nigeria, CJN, Justice Walter Onnoghen  has resigned with immediate effect –@thecableng

Although late, Nigerians have fought a great battle and have won. This is #NextlevelActivated
and the beginning of the recovery of our judiciary. pic.twitter.com/zrG7jXliec

— Lauretta Onochie (@Laurestar) April 5, 2019
Good news is Justice Walter Onnoghen is from the South so his on line vuvuzelas on social media can put his name forward as the official @OfficialPDPNig candidate in 2023 to replace the failed ambition of @atiku
That is if he's not jailed though. Good riddance…..

— Kayode Ogundamisi (@ogundamisi) April 5, 2019
Breaking: Walter Onnoghen resigns as CJN 'with immediate effect'

The end of an era of corruption in our Judiciary and the beginning of a new dawn of sanity.

Thank you @MBuhari
https://t.co/Q7iJs42iM5 pic.twitter.com/pF2u9cigvv

— Fafoluyi Olayinka M. (@senatorsolace) April 5, 2019
Walter Onnoghen resigned!!

He had the opportunity to step down when the whole saga started but no until he disgraced himself.

He should face the full wrath of the law if found guilty.

— Asiwaju Oladimeji (@AsiwajuOladimej) April 5, 2019
The suspended CJN,Justice Walter Onnoghen has resigned, where the 1000 SAN for he defence, pls PDP sent a letter to the UN,Atiku,PDP be silences forever. pic.twitter.com/CmuxjI2dhp

— Pst Aaron Frank-okochi (@OkochiPst) April 5, 2019
Oh wailiers Association of Nigeria what next?
Walter Onnoghen resigned as the Chief Justice of Nigeria (CJN).#Nextlevel.

Good Riddiance to bad Rubbish… pic.twitter.com/c191yy1ZJW

— Tonye COLE Stepson (@HWokocha) April 5, 2019
President Buhari should turn down the resignation letter of Justice Walter Onnoghen for attempting to instigate religious & ethnic crises in this country. There should be no sacred cow in the fight against corruption.

— Sunday Ogo (@Sidac06) April 5, 2019