Why Buhari Is Yet To Sign New Minimum Wage Bill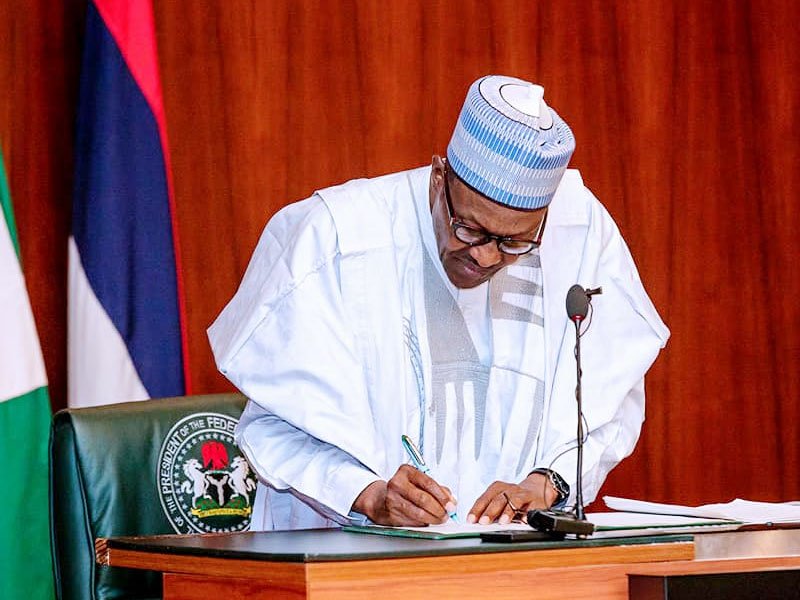 The Presidency has revealed that President Muhammadu Buhari is yet to sign the National Minimum Wage Bill just passed by the National Assembly into law.
The Senate had on March 19 passed the bill, approving N30,000 as the new national minimum wage.
By its action, the Senate concurred the earlier decision of the House of Representatives, which passed the bill before the National Assembly shut down its operations to enable lawmakers to participate in the 2019 general elections, beginning from February 16.
Last week, there were social media reports, claiming that Buhari had assented to the bill.
But speaking in an interview with The Punch on Wednesday, the Senior Special Assistant to the President on National Assembly Matters (Senate), Senator Ita Enang, dismissed the reports.
He said that signing of bills was not done in secrecy, as the President would normally communicate his decision to Nigerians publicly.
Enang clarified that Buhari had yet to sign the bill on the grounds that there were operational procedures to be followed.
However, he confirmed that the bill, which captured N30,000 as the new national minimum wage, had been transmitted to Buhari by the National Assembly.
Enang said, "The bill has been transmitted to Mr President; that I can confirm.
"Right now, the bill is undergoing standard presidential, operational procedures in respect of bills.
"We are within time. At the appropriate time, Mr President will take a decision and make it public.
"Therefore, the report that Mr President has already signed the bill is not correct."
The passage of the bill by the Senate coincided with the submission of the report on the new national minimum wage by the Presidential Technical Advisory Committee Buhari set up to advise the Federal Government on how to pay a wage increase above the current N18,000.
The panel, which was chaired by renowned economist and businessman, Mr Bismarck Rewane, submitted its report to Buhari on March 25.
The committee had the primary task of advising the government "on how best to fund, in a sustained manner, the additional costs of implementing the imminent increase (N30,000) in the national minimum wage."
The terms of reference also covered advising the government "on the consequential increases in salaries and allowances for other employees, without worsening our already difficult fiscal condition, and without adversely impacting the nation's development goals as set out in the Economic Recovery and Growth Plan."
The President had assured the nation upon receiving the report, that he would "review" it expeditiously and take a final stance.
Download NAIJA NEWS app: