Nigerians React As NJC Recommends Onnoghen For Retirement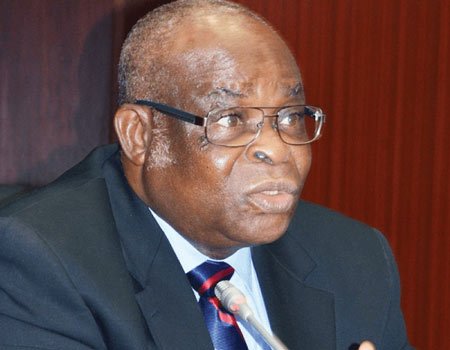 A storm of reactions by Nigerians has greeted a recommendation by the National Judicial Council (NJC), stating that Walter Onnoghen, suspended Chief Justice of Nigeria Justice (CJN) should retire.
Naija News had reported earlier that the NJC recommended the compulsory retirement for the CJN based on "incontrovertible" findings on him by the Economic and Financial Crimes Commission ( EFCC), Nigeria's anti-graft agency.
The commission also asked President Muhammadu Buhari to give effect to the recommendation immediately.
NJC, however, urged the President to allow Justice Onnoghen to retain his seat as a former CJN in the Council of State.
A source familiar with the development, said: "The NJC has been able to navigate the most challenging moment for the nation's judiciary by recommending compulsory retirement of Onnoghen with full benefits.
"The NJC specifically demanded that the CJN be allowed to take his eminent position in the Council of State like his predecessors.
"If these recommendations are accepted, the Executive may be on the same page with the Judiciary by staying action on the ongoing trial and other pending trials of the CJN," the source added.
Moments after the news of Onnoghen's recommended retirement, Nigerians took to the micro-blogging site, Twitter to react to the matter.
Naija News captured some of the reactions below…
Long after he is gone, students of politics will study how Buhari (the Cabal, not just the person) executed the capture of the Nigerian state in what can only be described as a bloody pseudo-coup.

The only question the Cabal now faces is how to achieve perpetuity.#Onnoghen https://t.co/Z2fWtVBKKg

— Ose El Sudenih (@Papadonkee) April 4, 2019
NJC want to let Onnoghen go through the back door by recommending him for retirement instead of outright dismissal.

PMB must do the needful by not dignifying a common thief!

— Ayekooto (@DeeOneAyekooto) April 4, 2019
Corruption enablers will soon scream "DEMOCRACY IN DANGER"
EXCLUSIVE: NJC recommends Onnoghen for retirement https://t.co/W5qTCudcOA https://t.co/W5qTCudcOA

— Kayode Ogundamisi (@ogundamisi) April 4, 2019
EFCC Says Onnoghen can not Account for $1.716M. How did he Become Nigeria Chief Justice? Thieves Sit in Authority Everywhere!

— Chris Ososa Asuelime (@OsosaChris) April 3, 2019
BREAKING
Onnoghen 'Didn't Declare His Assets' For 27 Years As A Judicial Officer

There is no evidence before this Honourable Panel that d Respondent ever declared his asset until 2016 when he filled https://t.co/jO8lQUyZ47

ME:?This man has turned our Judiciary to Oshodi market pic.twitter.com/I91Ico4z8R

— CBN Gov Akinsola Ak?? (@cbngov_akin1) April 3, 2019
Don't retire Onnoghen. Dismiss him outrightly so that other criminal judges like Mary Odili & co know this country must be taken serious.

— KUKUTE (@Ade_Nurayn) April 4, 2019
If the EFCC has "Incontrovertible evidences," against Onnoghen as being reported; why then is the NJC recommending retirement with full benefits, instead of retirement with full prosecution for Onnoggen? https://t.co/noPhdCG7kQ

— Demola Aliyu Adeniran (@Demurleigh) April 4, 2019
Recommendation is rewarding bad behaviour. No consequences for bad actions. Onnoghen should Not sit at Council of State. That's undermining the berth of a New Nigeria. @MBuhari should be bold enough to send a strong message. Sack that man! He shouldn't enjoy retirement benefits https://t.co/WikZp3ILMQ

— Isuph JT (@IsuphJt) April 4, 2019
Why's the NJC retiring Onnoghen with full benefits? If they have found out that he truly is guilty, it is supposed to be a sack. In fact, fuck his entire career up.

The arms of government in Nigeria are like cult groups, always seeking to protect their members.

— Uncle Demola (@OmoGbajaBiamila) April 4, 2019
Breaking:
NJC Recommends Retirement For Onnoghen

Good one ? pic.twitter.com/0QLMLhVu8j

— CBN Gov Akinsola Ak?? (@cbngov_akin1) April 4, 2019
If #Onnoghen
does not face the full wrath of the law, then the anti-corruption fight is a HUGE JOKE.
There can't be one set of rule for the elites & a different one for the masses.

Already people are languishing in jail for ordinary misdemeanors.
I'm just depressed about this.

— Anna Marie-Therese (@XperiencSwtness) April 4, 2019
NJC has recommended #Onnoghen for retirement, because his hands are not clean.
Changing the narrative or goal post makes no sense

— Deji Lawrence (@dejilawrence1) April 4, 2019
#Onnoghen for opening up the rot in the judiciary we will always be grateful to buhari. I can't imagine Atiku an embodiment of corruption investigating the judiciary. Not in his life. Thank you @MBuhari

— Shogsy (@cashoggy) April 4, 2019
Democracy in Danger! Dear @atiku NJC is backing Tyrant @MBuhari, they want Onnoghen retired. We have to copy United Nations @realDonaldTrump @USEmbassyAbuja @UKinNigeria and even @RussianEmbassy https://t.co/ipGEQlBime

— Kayode Ogundamisi (@ogundamisi) April 4, 2019
Read More News. Download Naija News App. Send us enquiries and press releases.