Onnoghen Closes His Defence Against FG's False Declaration Of Asset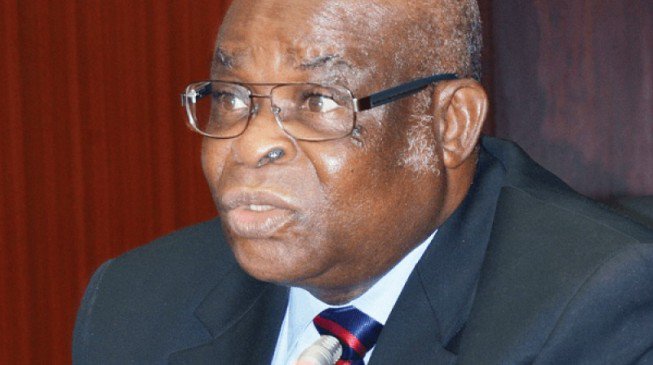 Embattled Onnoghen Is Being Defended By Third Counsel, Chris Uche (SAN)
The Embattle Chief Justice of Nigeria (CJN), Walter Onnoghen has closed his defense before the Code of Conduct Tribunal (CCT) on charges of false and non-declaration of assets.
Recall that Onnoghen on Monday called his driver, Lawal Olanrewaju Busari, as his first witness.
He had subsequently asked the tribunal to issue a subpoena to invite one Mrs. Theresa Nwafor, a Director with the Code of Conduct Bureau in Edo state, to appear as his second witness.
However, at the resumed hearing on Wednesday, his lawyer, Chief Chris Uche (SAN), informed the tribunal of the defence decision to close their case.
"After a very deep review and consideration of evidence already before the tribunal, the defence has come to a conclusion to close our case.
"Pursuant to Paragraph 14 of the Practice Direction of this Tribunal, we are applying to file our final written addresses," he said.
He asked for 14 days to file the written addresses.
However, prosecution counsel, Aliyu Umar (SAN) said because the time for the filing of written addresses was not provided for in the Practice Direction of the tribunal, it leaves it at the discretion of the tribunal.
Meanwhile, Naija News understands that Chief Chris Uche is the third senior advocate leading Onnoghen's defence team since the trial commenced on January 14.
At the commencement of the trial, Chief Wole Olanipekun (SAN) led about 30 other senior advocates for the defence.
Subsequently, Asiwaju Adegboyega Awomolo (SAN) took over the defence team following the perceived withdrawal of Olanipekun from the trial.
Naija News reported how Awomolo, at the end of Monday's proceedings expressed displeasure and condemned in strong terms, the drag in attending to Onnoghen's application
He lamented that political matters and election matters were treated with dispatch, and judgment delivered within hours,  while the appeal by Onnoghen was still on, 'six weeks after the argument was ordered to be kept away in the file".