Rivers Election: Wike's PDP Takes Early Lead (Full Results)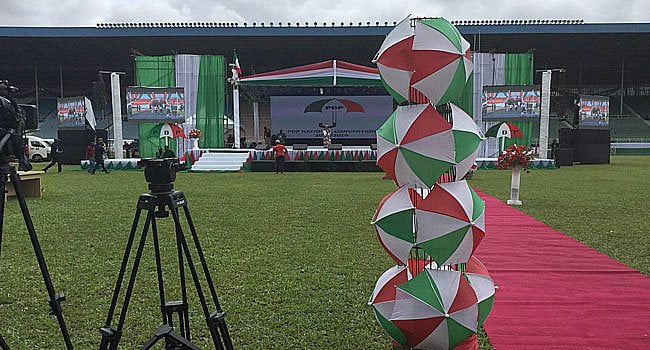 The Peoples Democratic Party (PDP), Nigeria's main opposition party, has taken an early lead in the ongoing announcement of Rivers state governorship election results.
Naija News had reported earlier that the Independent National Electoral Commission (INEC), Nigeria's electoral body, resumed the collation of result of the March 9 governorship election in Rivers State, south-south Nigeria.
The collation of the election result is taking place at the INEC headquarters in Port Harcourt, the Rivers state capital.
This online news platform recalls that the process was suspended on March 10, 2019, due to the widespread disruption of elections and violence in Polling Units and Collation Centres.
The election is between two key contenders; the incumbent Governor Nyesom Wike of the PDP, and Awara Biokpomabo of the Rotimi Amaechi-backed African Action Congress (AAC).
Out of the eleven Local Government Areas (LGAs) announced by INEC as at the time of filing this report, PDP won nine while AAC two the remaining two LGAs.
Below are the results from the LGAs as declared by INEC… (PLEASE REFRESH ALWAYS):
Tuesday, April 2, 1:56 pm – Omuma LGA
AAC- 1,853
PDP- 15,792.
1:44 pm:  Okrika LGA
AAC: 3,803
PDP: 25,572.
Akuku-Toru LGA
AAC – 36,661
PDP – 25,765.
Obio/Akpor LGA
PDP – 307,117
AAC – 3,010.
Eleme LGA
PDP – 9, 560
AAC- 2,748.
Opobo Nkoro LGA
AAC: 3888
PDP: 6314.
Bonny Local LGA
AAC : 3,046
PDP : 10,951.
Oyigbo LGA
AAC – 32, 026
PDP – 8,652
Andoni LGA
AAC- 5,335
PDP- 92,056.
Ikwere LGA
AAC – 5,660
PDP – 14,938.
Port Harcourt LGA
AAC – 11,866
PDP – 40,197.
Source: Naija News