Again, Nigerians Seek To #EndSARS Over Kolade Johnson's Murder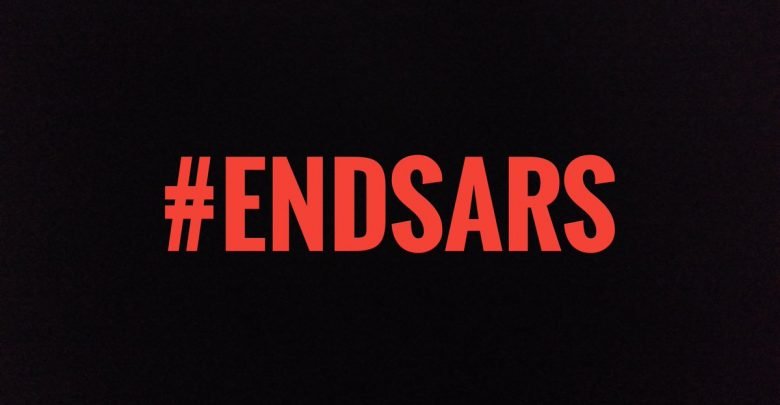 Nigerians have again sought to #EndSARS in reaction to the death of Kolade Johnson,  a football fan, who was shot dead by policemen from the Anti-Cultism Unit (SARS) of Lagos State Command.
Naija News had reported earlier that Johnson's death occurred when an unmarked commercial bus visited Mangoro/Onipetesi community in Lagos, Nigeria's commercial city, on Sunday afternoon in search of youths dressed wildly and rocking dreadlocks.
In an attempt to disperse a crowd which had gathered during the raid, one of the police operatives shot dead Johnson, who was trying to leave the scene after watching English Premier League match between Liverpool and Tottenham.
Apparently displeased with the development, Nigerians took to the micro-blogging site, Twitter to express their grievances with Johnson's death and in the process called for the immediate disbandment o the unit.
Naija News captured some of the reactions below…
Like @AishaYesufu would say, "Today's victims were yesterday's survivors. Today's survivors would be tomorrow's victims. Who is next?"

Until the son of the IG of @PoliceNG is gunned down by this #SARS cum assassins, we will continue to cry fowl.#EndSAKS #EndSACS #EndSARS

— UKHUEDUAN STANLEY (@st_prof_cas11) March 31, 2019
This is what happens when you enlist candidates with primary 6 and Greek experience into the police force..Nigeria wish way nah… #EndSARS

— James Nwannah (@eldarjames) March 31, 2019
Imagine stepping out of your house, and be scared of unjust brutality, unlawful arrest & detention, extrajudicial killing by the @PoliceNG then any other harm that might occur to you. We need to #EndSARS & make sure absolute #PoliceReform is enacted ASAP

Cc. @segalink

— Femi Gabriel (@femidebonaire) March 31, 2019
The primary assignment of Government is to protect lifes and properties of its citizens. The nadir the Nigerian Government has reached in this regard depicts absolute failure. No one is safe. There is a spread of preventable bloodletting in the land. Tragic! #EndSARS @segalink

— Horlarkhunlhey! (@shakury3519) March 31, 2019
It will take our undying loyalty to #EndSARS course, our undivided support to @segalink to see the end of this anti humanity called @PoliceNG / #sars . To me, we don't appreciate/support Sega enough on this journey😩😢

— JESUS LOVES YOU (@AtoyebiPaulB) March 31, 2019
SARs is a curse on this nation ! #EndSARS

— Olúyẹmí Fásípè AICMC (@YemieFash) March 31, 2019
https://twitter.com/Haywhy_Jah/status/1112524790944940032
If someone told me Nigerians will trend #EndSARS in 2019, I will call the person enemy of progress! Why can't federal government redeploy these trigger happy SARS officers constituting nuisance down south to Zamfara state to curb killings and kidnapping? 🤔#EndSARS

— Opeyemi Babalola (@CACCOT1) March 31, 2019
#EndSARS#ENDSARS #ENDSARS#ENDSARS#ENDSARS#ENDSARS#ENDSARS#ENDSARS#EndPolicebrutality #EndPolicebrutality#EndPolicebrutality#EndPolicebrutality#EndPolicebrutality

It takes just 2seconds!
This tweet deserves an endless RT. pic.twitter.com/CEfBOMmGds

— Good Vibes Only (@Hassan_Yarcx) March 31, 2019
https://twitter.com/YGodfada/status/1112512328342405121
SARS Shot at people and stray bullet hit this innocent Guy that was watching Football this afternoon ,He has died eventually,He lost too much blood . May it never be well with New inspector General Of Police that brought these animals back into our Society … #ENDSARS pic.twitter.com/3YstXD0abG

—  Oluwa Tobi #EndSARS (@TobiDaGreatest) March 31, 2019
https://twitter.com/Iammisterpaul/status/1112461155908239360
All the good that SARS has been doing wasn't seen by this stupid people just because of a single mistake you want the Fed. Gov to shutdown the entire taskforce, instead of you to ask the gov to arrest those that commit the crime, this is nonsense
#EndSARS

— AMINU JAFAR MUHAMMAD (@itz_AminuMJ) March 31, 2019
Meanwhile, #EndSARS campaign, is a coalition of Non-Governmental Organizations, NGO, involved in the current citizens' push for the reform of the Nigeria Police Force, NPF, more particularly the agitation for the scrapping of the Special Anti-robbery Squad, SARS.