Biafra: Group Condemns Order To Arrest Nnamdi Kanu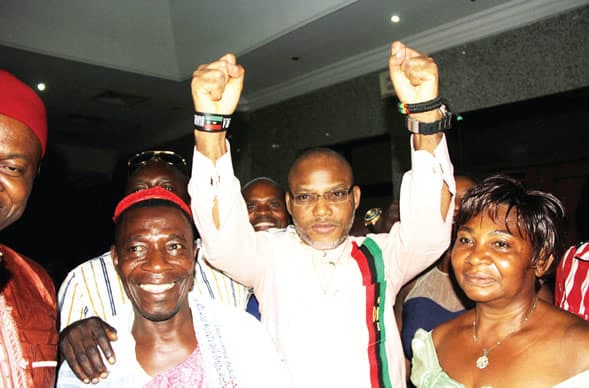 The Biafra Nations Youth League (BNYL) has condemned Justice Binta Nyako's arrest order against the leader of the Indigenous People of Biafra (IPOB), Nnamdi Kanu.
Nyako, a justice of the Federal High Court sitting in Abuja, gave the order while deploring the continued absence of Kanu from court.
She also revoked the bail granted Kanu in 2017 and directed that the proceedings of the trial will still continue even in the IPOB leader's absence.
Reacting on Friday the pro-Biafra, through its Deputy Leader and Director of Operations, Biafra Broadcasting Service, Ogar Takon, declared that the court ruling was an injustice.
The statement sent to Naija News read: "The judicial system is regarded as the last hope of the common man in every nation, but in Nigeria, the reverse is the case, it is not. Instead, the court harbors corrupt judges worst than politicians".
"The court ought to have considered the illegal invasion of Umuahia by men of the Nigerian Army during Operations Python Dance that forced the IPOB leader to flee for safety."
"It will make sense if the court orders the arrest of Boko Haram Leaders for trial", he continued.
"Because Biafra agitators are visible, they feel they can exercise power over us. They are simply encouraging us to go underground because no one would want to be handled by the enemies in Nigeria.
"They should know the implications of we going underground, it will be terrible and disastrous even more than militancy," Takon warned.