PDP May Field Candidate For Senate Presidency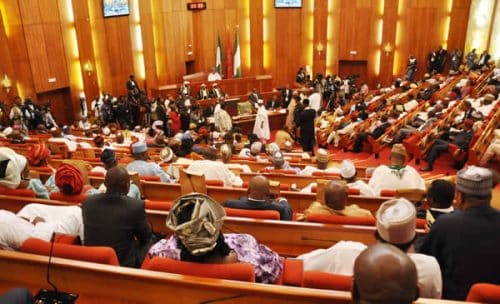 Members of the Peoples Democratic Party (PDP) in the Senate may have dumped their plan to adopt and support any "friendly" member of the All Progressives Congress (APC) that is interested in contesting the position of the Senate president in the 9th National Assembly.
Investigations by Punch at the upper legislative chamber on Thursday revealed that the PDP senators, numbering 41 at the moment, were determined to present a candidate that would contest against the candidate of the 65-member APC caucus in the red chamber.
A senator from the South -East geopolitical zone, said on Thursday, that his colleagues were considering taking the advantage of the crack in the APC Senate caucus to present a candidate.
The ranking senator said, "It is glaring that Senator Ali Ndume will contest the Senate president seat on the day of inauguration because he is obviously dissatisfied with the position of the party.
"Rather than pacify him, the APC leadership seems not to care about the trauma and emotional pains they have subjected Ndume to by saying that the decision to pick Ahmad Lawan was final."
The senator hinted the leaders of the PDP might soon come up with a decision to adopt one of their ranking senators that would contest the Senate president position on June 9 that the 9th Senate would be inaugurated.
But another senator from the South-South geopolitical zone told Punch on Thursday that the Deputy Senate President, Ike Ekweremadu (Enugu); Senator Enyinnaya Abaribe (Abia); and Senator James Manager (Delta) were being considered as the PDP candidate for the Senate president position.
He said, "We already have ranking senators who have shown capacity to lead the Senate. Senator Ekweremadu has been Deputy Senate President on three occasions while Abaribe and Manager have been in the Senate since 2003."