APC Speaks On Helping Okorocha Get Certificate Of Return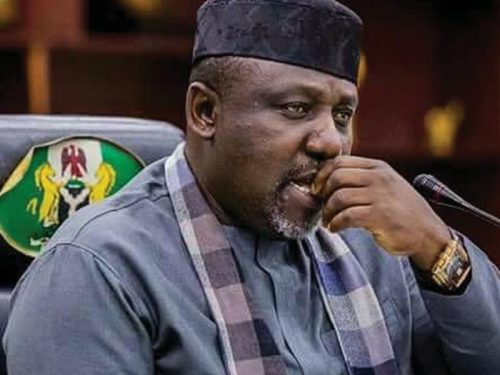 The All Progressives Congress (APC), Nigeria's ruling party, says it cannot help the governor of Imo state, Rochas Okorocha, over the decision of the Independent National Electoral Commission (INEC) not to issue him a certificate of return as senator-elect.
Lanre Isa-Onilu, the party's spokesperson, who spoke at a press conference in Abuja, Nigeria's capital, aid the matter cannot be resolved yet since the governor is still on suspension.
The APC spokesman said the governor is aware of his suspension, hence could not report his dilemma to the party.
Naija News recalls that INEC had said it will not issue the certificate of return for Imo west to Okorocha, as he was announced winner under duress.
The commission said it will only issue the certificate to Okorocha only if it is directed by a court to do so.
This online news platform understands that the governor has, however, approached a federal high court in Abuja to compel INEC to issue him the certificate as the winner of the election.
"He has not reported his dilemma to the party," the APC spokesperson said.
"We cannot take any position on that now. Governor Okorocha is on suspension. He, too, has not reported the case to us because he knows he is on suspension. Until that is vacated, we can't handle his case."