Kumuyi, CAN Speak On Nation Building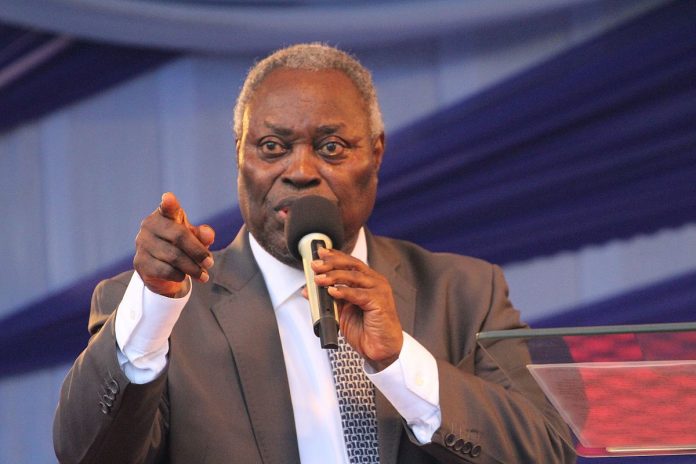 The General Superintendent of Deeper Christian Life Ministry, Pastor William Folorunsho Kumuyi, and the Lagos chairman of the Christian Association of Nigeria (CAN), Apostle Alexander Bamgbola, have expressed concerns over the need for the building of the nation.
The Christian clerics called on Nigerian preachers and politicians to discharge their duties without fear or favour and having the fear of God at heart in order to build a better Nigeria.
The duo made the call on Wednesday, March 27 at the maiden edition of the Ministers' Development and Networking Summit organised by the Deeper Christian Life Ministry.
Naija News reports that the summit organised by DeeperLife is in collaboration with CAN and the Pentecostal Fellowship of Nigeria (PFN).
While speaking at the summit themed, 'Building The Builders', Kumuyi, reiterated that the success of any nation or ministry depends on the value placed on righteous living.
Kumuyi said in his words; "Our success in the ministry depends on our foundation in Christ; there must be stability. Many people have defied their foundations, others have deceptive foundation, some have destroyed or diminished foundation, examine whether your foundation is still standing because after you are built you build others."
In his remark, Bamgbola noted that the church is the most challenging ministry.
He said as thus; "church leadership is the highest calling; being called to be the servant of God is higher than being the president of any nation because you are responsible for the souls created by God – so, it is a very serious responsibility."
"We need to have a new beginning in our nation because the Bible says if the foundation be rotten, what can the righteous do? That is, this nation has a rotten foundation; a foundation of corruption. So, what the church is doing here is what we have to do in politics, business, and in all areas of human endeavour in our nation."
"Yes, we started well in 1960, but we are still reaping what we sowed. The election of 1959 – I am old enough to say this because I was part of it; was a rotten election. So, every subsequent election since then has been rotten, and that is why we are still complaining."
"The way forward is to change. We leaders in the church to have the fear of God; then politicians and the rulers should have the fear of God. What will anybody do with a billion Dollars? What do you want to do with the kind of wealth they steal in this nation? They have been bleeding this nation since independent and they can't still finish it because God has a plan for this nation. I believe God will bless your generation – am speaking from my heart; it's painful," Bamgbola expressed.