Biafra: Where Is IPOB Leader Nnamdi Kanu?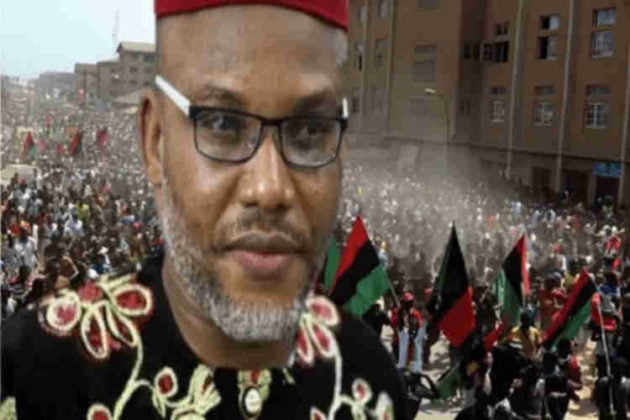 The sudden silence of the leader of the Indigenous People of Biafra (IPOB), Nnamdi Kanu, since the conclusion of the governorship elections, calls for questioning if the secessionist leader only resurfaced in order to "participate" in Nigeria's 2019 elections.
Naija News recalls that Kanu resurfaced in Jerusalem, Israel, October 19 2018, after the military invasion of his community in Abia State, southeast Nigeria, in 2017.
Two days after Kanu resurfaced, the self-exiled IPOB leader made a live broadcast on Radio Biafra, where he said he has returned fully and is "coming back with hell."
"I have returned full-time and I am coming home and I will bring hell with me," Kanu said in his first public statement on a live broadcast monitored on the 'Radio Biafra' Facebook page, October 21, 2018.
After Kanu's first public statement, he continued to address "Biafrans" through a live broadcast every Saturday, during which he addressed various issues including an allegation that President Muhammadu Buhari is an impostor whose real name is Jubril Aminu Al-Sudanni from Sudan.
In various broadcasts of the IPOB leader monitored by this reporter, Kanu maintained that the person in Aso Rock, Nigeria's Presidential Villa is not President Buhari, an allegation which the President debunked last year while speaking in Poland where he attended a climate change summit.
 "A lot of people hoped that I died during my ill health. Somebody just thought I am cloned, it is real me I can assure you," the President told some Nigerians living in the European nation.
Just when the allegation of the President being an impostor was dying down, Kanu delved into Nigerian politics particularly the 2019 general elections, calling on Biafrans to boycott the election as he claimed that was the only way to show their readiness for a referendum.
After spending months, calling for a boycott of the elections, Kanu asked members of the separatist group on Thursday night, February 14, to participate in 2019 general elections after initially calling for a boycott.
The IPOB leader called off the election boycott three days after the Independent National Electoral Commission (INEC) ended the collection of permanent voters cards (PVC).
Naija News understands that the collection of PVCs was scheduled to end on Friday, February 8 but the commission extended it to Monday, February 11.
Few days to the elections Kanu changed his style of broadcasting from Saturdays to broadcasting a day to every election till the governorship elections which took place March 9. Apart from broadcasting , the IPOB leader also used the micro-blogging site, Twitter, to pass information across to "Biafrans".
However, after the March 9 governorship election, Kanu has stopped broadcasting, neither has he tweeted, which calls for questioning if the IPOB leader only resurfaced to "cash out" his share of "election money" as touted by some Nigerians including Deji Adeyanju, the convener of Concerned Nigerians.
Naija News recalls that Adeyanju had said that the greatest weakness of the IPOB leader was his love for money.
In a series of tweets, Adeyanju wrote: "I hear Nnamdi Kanu is back again, I guess he wants to play a role in the 2019 elections.
"My advice to him is simple: Don't mess it up again this time around. He had a fantastic opportunity the last time and messed it up by calling on people to boycott Anambra polls.
"If he comes again with his no election in Igbo land then we all know who he is working for.
"The guy's greatest weakness is his love for money. Ask any of the South East governors, they will confirm this. The guy loves money too much. Hope he proves many of us wrong this time," Adeyanju had said.
Like Adeyanju had predicted, Kanu called for a boycott of the general elections the same way he did before the November 18, 2017 governorship election in Anambra state.
Meanwhile, as at the time of filing this report, Kanu was yet to make a statement despite Justice Binta Nyako revoking his bail and ordering for his arrest earlier on Thursday.
Download Naija News App. Advertise with us. Send us enquiries and press releases.