Nigerians React To Ifeanyi Ubah Dumping YPP For APC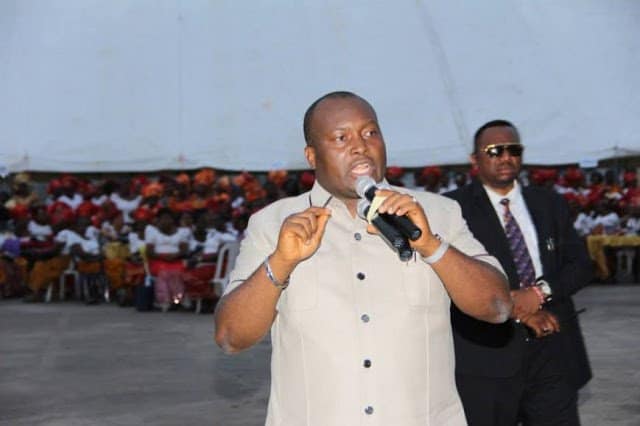 A storm of reactions by Nigerians has greeted the news of Ifeanyi Ubah dumping the Young Peoples Party (YPP) for the All Progressives Congress (APC), Nigeria's ruling party.
Naija News had reported earlier that Ubah, who was elected Senator on the platform of YPP in the March 9 National Assembly election, dumped the party for APC this week.
The National Chairman of the APC, Comrade Adams Oshiomhole, disclosed Ubah's defection on Monday, March 25.
Oshiohmole informed the APC National Working Committee members, returning/newly-elected senators at the Presidential Villa, on Monday, that Ubah was now with the ruling party, NAN reports.
Describing Ubah as a 'smart politician Oshiomhole in his opening remark, said the "YPP Senator-elect from Anambra South has decided to pitch tent with the ruling party because he felt more comfortable with the winning team."
Oshiohmole, however, added that other issues related to Ubah's defection would be perfected on a later date.
Moments after the news broke, Nigerians took to the micro-blogging site, Twitter to air their opinions on Ubah's defection.
Naija News captured some of the reactions below…
I hereby commend Ifeanyi Ubah for dumping Third Force YPP for APC. APC crumbled Ifeanyi's businesses.

If you can't beat them, join them.

The joke is on the people that voted him as a third force candidate?

— IKECHUKWU (@iykimo) March 26, 2019
Just spoke to Senator-elect, Dr Ifeanyi Ubah on phone. Said he's yet to join the APC officially but caucusing seriously with the leadership of our great party on that. https://t.co/2IjdcgqGGY

— Philip Obin (@PhilipObin) March 26, 2019
Ifeanyi Ubah wasn't voted for as a third force candidate. He has always won any election he contested in Anambra South. However, he wants to recover his losses, he's a good business man. He doesn't want a second term, he only wants Capital Oil & Gas Back. That's the game plan.

— Somto Onumaegbu (@OnumaegbuSK) March 26, 2019
I have a message for senator-elect Ifeanyi Ubah – All igbos that transferred the mandate given to them to APC, did not comeback to the red chambers.

I hope he gets this message. Wish him all the best.

— Miz Cazorla (@MizCazorla1) March 26, 2019
Why did Ifeanyi Ubah defect to the APC?
Firstly, and very simple; His business Capital Oil is a just a corruption-driven venture.
Secondly, he has an eye on the Anambra governorship seat which is primed to return to Anambra South( his senatorial zone) in 2022.

— Mazi Joshua Kayce-Ogbonna (@Kayce_Joshua) March 26, 2019
Should we tell Ifeanyi Ubah what happened to Akpabio,Rochas,Ameachi,Uche Oga ect ????
Before long he will be voted out of office

— Pure Water & Lots Of Ice?? (@ArabOfficial_) March 26, 2019
It's Obvious Ifeanyi Ubah is desperate for Senate president, ain't surprised abt the game card is playing….
When it comes to politics, Naija I hail oo???

— That Stranger (@paparazee007) March 26, 2019
It's good enough that Ifeanyi Ubah showed his hands early on.

Never again will such an amoral fellow be elected in Anambra Politics.

Anyway, I don't blame him. I blame @WillieMObiano under whose political nzuzubility #APGA is on a slow death. https://t.co/6OpoGhTtGo

— The Jonathanian (@The_Jonathanian) March 26, 2019
Ifeanyi Ubah decamps to APC just weeks after he was elected on the platform of YPP.

These politicians. ????

— Adebayo Bankole Akintunde (@AdeBanqie) March 26, 2019
Naija News reports that Ubah will be representing Anambra South at the National Assembly when the 9th Nigerian Senate resumes.
Source: Naija News