Breakdown Of Governorship Election Results For APC, PDP In 26 States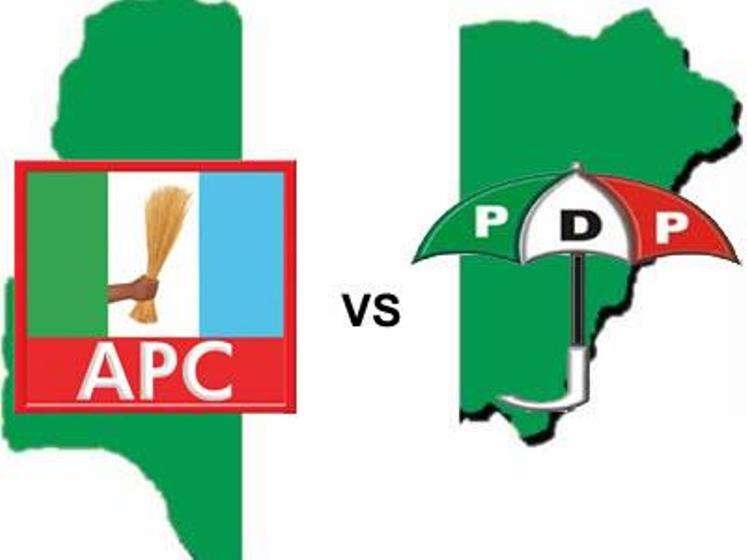 Naija News has obtained a breakdown of the governorship election results scored by candidates the All Progressives Congress (APC), Nigeria's ruling party and that of the Peoples Democratic Party (PDP), Nigeria's main opposition party in the just concluded elections.
This online news platform understands that the Independent National Electoral Commission (INEC) conducted the governorship elections March 9 and supplementary elections March 23, which thereafter produced the winners.
A breakdown of the results from the 26 states, shows that APC won in fifteen (15) states while PDP emerged the winner in eleven (11) states.
Meanwhile, results from three states, which include Adamawa, Bauchi and Rivers are still outstanding.
While results from Adamawa and Bauchi are being held due to court orders, the electoral umpire is yet to collate Rivers election results.
Here is how APC and PDP performed in the last election.

STATE
FINAL RESULTS
WINNER
1. ABIA
APC: 99,574PDP: 261,127
PDP (INEC-certified)
2. ADAMAWA
*APC: 334, 995*PDP: 367, 471

*ADC: 113, 205

INCONCLUSIVE
3. AKWA IBOM
APC: 171, 978PDP: 519, 712
PDP (INEC-Certified)
4. BAUCHI
*APC: 465,453
*PDP: 469,512
INCONCLUSIVE
5. BENUE
APC: 345155PDP: 434473
PDP (INEC-certified)
6. BORNO
APC: 1,175,440PDP: 66,115
APC (INEC-certified)
7. CROSS RIVER
APC: 131,161PDP: 381,484
PDP (INEC-certified)
8. DELTA
APC: 215,938PDP: 925,274
PDP (INEC-certified)
9. EBONYI
APC: 81,703PDP: 393,043
PDP (INEC-certified)
10. ENUGU
APC:  99,574PDP:  449,935
PDP (INEC-certified)
11. GOMBE
APC: 364,179PDP: 222,868
APC (INEC-certified)
12. IMO
AA: 190,360APC: 96,458

PDP: 273,404

PDP (INEC-certified)
13. JIGAWA
APC: 810, 933PDP: 288, 356
APC (INEC-certified)
14. KADUNA
APC: 1,045,427PDP: 814,168
APC (INEC-certified)
15. KANO
APC: 1,033,695PDP: 1,024,713
APC (INEC-certified)
16. KATSINA
APC: 1,178,864PDP: 488,621
APC (INEC-certified)
17. KEBBI
APC: 673,717PDP: 106,633
APC (INEC-certified)
18. KWARA
APC: 331,546PDP: 114,754
APC (INEC-certified)
19. LAGOS
APC: 739,445PDP: 206,501
APC (INEC-certified)
20. NASARAWA
APC: 327,229PDP: 184,281
APC (INEC-certified)
21. NIGER
APC: 526,412PDP: 298,065
APC (INEC-certified)
22. OGUN
APC: 241,670APM:  222,153
APC (INEC-Certified)
23. OYO
APC: 357, 982PDP: 515, 621
PDP (INEC-Certified)
24. PLATEAU
APC: 562,109PDP: 559,437
APC (INEC-Certified)
25. RIVERS
Election suspended
26. SOKOTO
APC: 511,660PDP: 512,002
PDP (INEC-Certified)
27. TARABA
APC: 362,735PDP: 520,433
PDP (INEC-Certified)
28. YOBE
APC: 444,013PDP: 95,703
APC (INEC-Certified)
29. ZAMFARA
APC: 534,541PDP: 189,452
APC (INEC-Certified)