APC Takes Fresh Step Against Atiku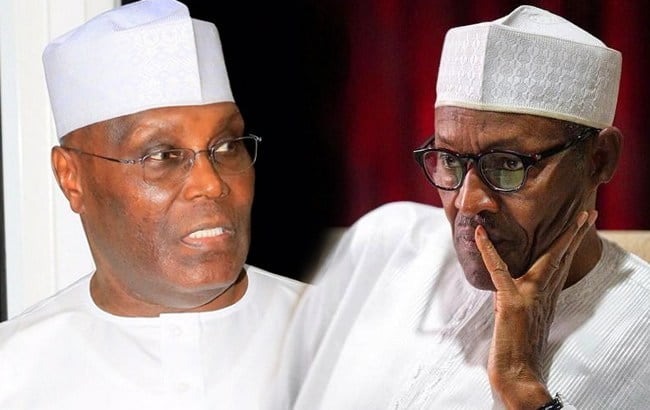 The All Progressives Congress (APC) has taken another step against the opposition Peoples Democratic Party (PDP) and its candidate, Atiku Abubakar.
Naija News understands that the step against the presidential candidate of the opposition party is not unconnected to the recent legal actions by Atiku, questioning the outcome of the Presidential election that saw President Buhari as the winner while Atiku believes that the results must be subjected to critical scrutiny.
In its recent move, the APC has through its Presidential Campaign Council, petitioned the Inspector General of Police, IGP, Mohammed Adamu and the Director-General, Department of State Service (DSS), Yusuf Magaji Bichi to urgently investigate into the supposed hacking of the server of the Independent National Electoral Commission (INEC), by the PDP.
The petition issued and sent by the Director, Strategic Communications, APC Presidential Campaign Council, Festus Keyamo, said the leadership of the PDP must be invited, interrogated and investigated and that those identified as perpetrators must be arrested and prosecuted.
"The APC Presidential Campaign Council hereby prays that the Inspector-General of Police and the Director-General of the Department of State Services use your good offices to investigate the hacking of and/or illegal tampering with the INEC server by the PDP. The leadership of the PDP must be invited, interrogated and investigated and those identified as perpetrators must be arrested and prosecuted.
"Opposition is healthy in a democracy but it is not a license for criminality and illegality. A country governed by laws cannot be blackmailed or cowed into indolence by the perceived underdog status of the opposition so as to condone such a blatant criminal claim by the PDP of having illegal access to INEC's server. We trust you will act with alacrity," the APC said in the petition.
The statement furthered that; "That was the first indication that the main opposition was up to something sinister regarding the electronic transmission of the results. Upon the last-minute postponement of the February 16, 2019 Presidential/National Assembly Elections, the nation was shocked to see already prepared presidential elections results floating around in the cyber space just less than 24 hours after the postponed election was originally billed to hold! The fake results had details of the scores of the candidates of the major parties. Of course, the fake results gave victory to the candidate of the PDP, Alhaji Atiku Abubakar, even when elections did not hold.
"The only conclusion one can draw from the above is that the PDP had prepared those results which were to be smuggled into the INEC Server. However, the sudden postponement of the election scuttled that evil plan, but it was too late to restrain the release of the fake results," it said.
The APC explained that the proper elections were held on February 23, 2019 and that the incumbent president, Muhammadu Buhari declared the winner.